Grading & Excavation Features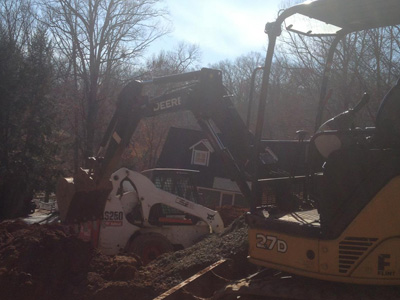 At SCCR Landscapes, we will conduct a comprehensive assessment of your property and projects before creating a grading and excavation plan. We understand how important it is for any construction project to have the site prepared correctly and to start with a great foundation. We offer a full range of grading and excavation services for our residential and commercial clients throughout greater Cumming, GA, and the surrounding areas.
Foundation Excavation
Whether you have a construction or a landscaping project, it will require foundation excavation to prepare a reliable foundation. Your grading, foundation, and excavation company will determine how deep the foundation will be. It may be a simpler process in many cases, but when the land does not have ideal soil quality or shape, it can become challenging.

Some of the common challenges your excavation company can face include:
Sloped Land: It is more challenging and time-consuming to excavate sloped land than flat land. Traditionally, a cut-and-fill approach has been used for preparation. Your excavators will either add soil or remove it to level the land. Once the land has been leveled, the foundation hole will be excavated before the foundation is built. The pier-and-beam foundation is an alternative technique used for the purpose.
High Water: High water level is also a challenge that needs to be addressed when using excavating. Certain types of soil and sites near water sources often face this issue. Some of the common techniques used to address this problem include the creation of trenches, pipes, pumps, or wells.
Pool Soil: An experienced excavator can build a foundation into all types of soil. Still, some soil types like loam soil are considered ideal while others are not. Creating an effective soil drainage system can help build foundations in soils with high gravel or sand content.
Underground Utilities Excavation
Unknown electrical lines, gas pipes, water pipes, and sewer tiles can bring any landscaping or construction project to a halt. A professional grading and excavation company will specialize in marking and excavating all underground utilities on your property before beginning any project on your land. At SCCR, we use safe and non-destructive utilities excavation techniques such as hydro excavation to eliminate any chances of damage.

Hydro excavation involves the use of high-pressure water along with a vacuum truck. It will remove soil from around the utility lines without causing damage to them. The technique will expose the lines, making it safer to locate and inspect them.
Road Grading
Heavy rains and flooding can easily cause damage to your property. Professional road grading during construction can provide excellent protection against such naturally caused damages. Well-graded roads are crucial for the construction and maintenance of properties, especially if you have gravel and dirt roads. Road grading is done during the early phases of a project to create a more stable foundation. It refers to the leveling, shaping, and adjusting of the land sloping to meet the requirements of the specific road project. Your grading service provider will use modern and effective equipment and techniques to grade roads for private and public use. The quality of road grading will depend on the following factors:
Soil density and composition
Water retention
Traffic volume and driving conditions
Weather condition
The use of a quality motor grader is important for gravel and dirt roads.
Site Grading
Site grading services are crucial for creating the foundation for different types of projects. Your site grading company will create a flat and even surface, eliminating any slopes in the land. These services are also required when building new parking lots or roads. Creating uneven earth is an important step in prolonging the life of the structure or hardscaping feature built on the land. Site grading services also help improve drainage. This makes them ideally suited for creating new landscaping features.

Licensed and experienced companies such as SCCR Landscapes can provide you comprehensive grading and excavation services in Cumming, GA, and the surrounding areas. Contact us today at (770) 354-3486 for more information or write to us using this Online Form.