Outdoor Kitchens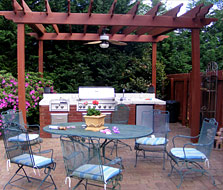 Outdoor living can be broken down into the same basic elements as life in general. The most important element is food. This is why an outdoor kitchen is a must. The outdoor grill has become the centerpiece of most backyards. We at SCCR Landscapes have custom designed and installed many outdoor kitchens for our clients throughout greater Atlanta Georgia with great success. The addition of an outdoor kitchen has become a very popular project for homeowners today. The reason is that people like to entertain in their homes but sometimes doing it all indoors can be quite a hassle and a mess. With an outdoor kitchen you can have some really great get-togethers in the comfort and convenience of your own backyard!
Entertaining Moments in your new Outdoor Kitchen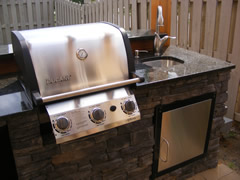 Let our team help you custom design and install an outdoor kitchen that will suite all of your needs and requirements. We will discuss what type of cooking you like to do and how much space you have available. It really is the ideal place to have all of your parties for you can be outside cooking the meals and still be in amongst all of the action rather than being stuck indoors. You can even get your guests to help out more with the cooking process!
It is so much nicer to be in your outdoor living area with all of your guests and cooking on your new outdoor kitchen. Gone are the days where the whole would be a huge mess after having a party; nowadays the parties can be held in the outdoor patio with the outdoor kitchen all set up to get all the food prepared right there.
Installation and Design of Outdoor Kitchens
The professional teams at SCCR Landscapes will custom design an outdoor kitchen for you. We have many years of experience in building awesome outdoor kitchens for our clients. There are many things that you will need to consider such as the layout and features of the kitchen and what type of material you want it built out of. It can be very overwhelming, and that is why we are always ready to give you all of the information you may need to make the right choices for your outdoor kitchen.
Quality Outdoor Kitchens from SCCR Landscapes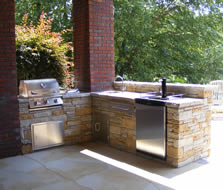 Once your outdoor kitchen is installed by our expert team you will enjoy cooking and entertaining outdoors so much. All it takes is investing a little bit of time and money and we will produce such great results for you. SCCR Landscapes offers our clients the best customer service and the highest quality craftsmanship. We will guide you from the design to the installation and provide you with all of the maintenance knowledge you may require.
So do not hesitate any longer and contact the professional team at SCCR Landscapes today and we will come out to your property for a free consultation. Take that next step to changing the way you entertain in your home. You will be delighted with our elegant and stylish outdoor kitchen creations!