Concrete Patios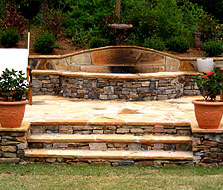 Concrete patios serve as additional living spaces, thereby extending your living room and making your landscape more inviting and functional. Additionally, they can enhance the appeal of your outdoors when the right decorative materials are used. But you need professionals like us to get a perfectly designed patio. At SCCR Landscapes, we can help you enjoy all these benefits by designing and building a custom concrete patio in your yard.
Our company has installed countless patios across the state, particularly in Cumming, Dawsonville, Alpharetta, Johns Creek and Buford, GA. For close to two decades already, SCCR Landscapes has made numerous outdoors stunning and highly utilitarian with the concrete features and amenities that we've installed. Most of these structures were custom designed concrete patios and outdoor living spaces. We value excellence, so we make sure that every patio we install meets industry standards and exceeds client expectations. Call 770-354-3486 right now to know more about our patio installation services.
Stone Pavers
When creating patios for our clients, we typically use premium stone pavers for the flooring. Stone pavers are easy to install and very appealing with their natural beauty. Additionally, they are proven to be very durable, which makes them last for several decades without requiring major repair works. Among the types of stones that are typically used as stone pavers are granite, marble, slate, bluestone, limestone, and the like. All the concrete patios that we build are installed only by our professionally trained and skilled crews. They strictly adhere to industry-approved installation methods and ensure that they follow clients' design requests down to the smallest details. More importantly, they use only topnotch materials to guarantee the functionality, longevity, and aesthetics of each patio they create.
Poured Concrete
One option for clients with limited budget is to go for poured concrete when building their patios. Our installers can apply different finishes and create custom designs to achieve our client's design preferences. We also use decorative methods such as stamping to achieve the look of stone and other pricey flooring materials. We can also use custom designs to satisfy your design taste. Another technique that we may use is acid staining, which could create the impression that the patio floor is made from granite or marble. Poured concrete patios can actually rival the beauty of patios made from expensive natural stones.
Concrete Work Installers
Our skilled installers can guarantee the functionality and stunning beauty of each poured concrete patio they install. What's more, they can assure the client that the patio will last not just for a few years, but for many decades to come. Our clients can benefit from the patio longer, hence making their investment truly worth it.
If you have questions on the concrete patios that we can design and build, please feel free to contact us. You may reach us through our hotline or visit our office during business hours. We will be available to answer your concerns and schedule a meeting with you to discuss the details of your desired patio.