Flagstone Patios & Driveways Alpharetta, GA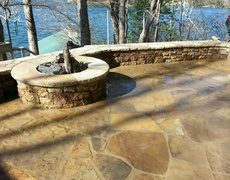 One of our areas of expertise is installing flagstone patios and driveways for commercial and residential properties. We have over 20 years of experience in the industry, and we have devoted much of that time polishing our skills and knowledge of landscaping and hardscaping techniques. Our company has served so many clients in Alpharetta, Cumming, John's Creek, and other nearby locations. We are one of Georgia's most successful landscaping companies, and we owe it to our hardworking and extremely talented crews who put our clients' interests above all else.
Please let us know what assistance you need as regards your dream patios and driveways. We'd be happy to offer you some of the best design options that we have.
Why Choose Flagstone for your Patio or Driveway?
There are some outstanding reasons why we highly recommend flagstones for our patio and driveway installation projects. First is the natural beauty of this natural stone: it has a rich color that will appeal to clients who want a truly stunning, natural look. Flagstones are likewise durable, which makes them ideal for patios, driveways, and other high-traffic areas. There is also a wide range of patterns and colors to choose from, so achieving a custom look is easy.
Moreover, a flagstone has a non-slip surface to prevent slip-and-fall accidents. Amenities such as flagstone patios and driveways are also low maintenance, so you won't have to worry about spending huge amount of money for maintenance jobs. And lastly, a flagstone is known to stay in great condition even after constant exposure to freeze-thaw cycles.
Custom Patio Designs
It is truly easy to achieve a custom look using flagstones to create patios for our clients in Alpharetta and nearby GA cities. We offer various patio designs, such as modern, traditional, European, and contemporary. There are also a lot of colors to choose from, including black, red, blue, gold, and many others. Likewise, we can install various types of flagstones, such as sandstone, quartzite, basalt, bluestone, limestone, travertine, and slate. We can recommend or pick the right type, color, pattern, and theme based on your desired appeal.
Attractive Flagstone Driveways
With flagstones as the main building material, we can provide you with a truly attractive and durable driveway. We carefully design your driveway to effectively enhance your property's curb appeal and make it as a focal point that will delight your guests or clients. You won't have to worry about periodic repairs because the paving stones that we will use are top-notch and sourced from reputable suppliers.
Patios and Driveways Built by Professionals
We can assure our clients that all flagstone patios and driveways that we work on are handled by certified and experienced installers. We have stone masons who know how to properly install stone features, so you're guaranteed the best looking, sturdiest, and most functional driveways and patios possible. Our crews will follow your specifications and install each flagstone piece carefully and creatively to achieve the perfect look.
Complete Resources and Logistics for our Work
We are proud of our complete resources and logistics that allow us to guarantee successful creation of flagstone patios and driveways. Just take a look at our portfolio to get a clear idea of our work quality and the skills of our people. We have already served a lot of clients in Alpharetta, GA and other areas in the state, so you are assured of our competency and ability to create your desired outdoor features using paving stones.

If you want to learn more about our services, please dial 770-354-3486 today.