Concrete Driveways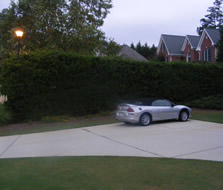 When you have a well-designed driveway, you can expect fluid vehicle traffic and a great first impression from guests. Since driveways cost quite a considerable sum, it must be built to last a lifetime and must look good at the same time.  If you want to have this kind of driveway, all you need to do is to call us. We've been building stunning concrete driveways for clients across Georgia at reasonable rates.
As an expert contractor, we have successfully installed countless concrete driveways in private and commercial properties across Cumming, Dawsonville, Alpharetta, Johns Creek and Buford, GA. For more than 15 years now, SCCR Landscapes has been a trusted name in landscape design and development, with some of the state's most gorgeous properties forming part of our portfolio. We have the best landscapers employed, access to the finest materials and supplies, and immense creativity and dedication to each project. If you want a concrete driveway that stands out in many ways, then we're the perfect company to hire.
Natural Stone
Among our highly recommended materials for driveways are natural stones. These materials possess inherent appeal that makes one feel closer to nature. They are also very flexible in terms of design possibilities since they come in various types, shapes, textures, colors, and sizes. Specifically, one may choose from either or some of these natural stone varieties:
Flagstone
Stone pavers
Bluestone
Slate
Sandstone
Limestone
Natural stones can be installed through dry or wet set methods, whichever is preferred by the client or deemed appropriate by our installation team. Our crew members carefully install them from beginning to end to ensure that they will last for decades.
Poured Concrete
One great option if you have a limited budget is to go for poured concrete to create your desired driveway. Our poured concrete driveways are not dull-looking since we use decorative methods such as stamping and staining. Our crew members are trained to incorporate our clients' design requirements into the decorative technique that they employ. We can mimic the look and feel of more expensive materials such as slate or bluestone, so your guests won't tell that we just used concrete for the driveway.
Concrete Pavers
Other excellent materials for driveways are concrete pavers. They allow for easy installation so projects can be completed quickly and within the working budget. Concrete pavers are available in various designs, colors, patterns, and sizes so it's easy to achieve a custom look. Since we employ certified and trained paver installers, we can assure you of outstanding results. We can guarantee that the concrete driveways we install will impress your guests while still being fully functional and durable.
No need to worry about busting your bank when you get our services. We charge competitive rates for all the services we offer. With our client-friendly rates, you can have savings which you can use to finance other aspects of your planned property improvement. Call us today at 770-354-3486 if you want professionally installed concrete driveways.