Concrete Pavers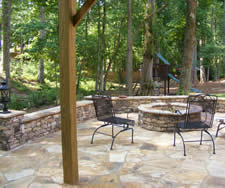 There are different types of paving materials that can be used for outdoor features and amenities. Some property owners prefer stone paving for its natural beauty while others choose brick paving for its subdued appeal. However, there is one great alternative to these paving materials that you will surely like because of the many benefits it offers. Concrete pavers are excellent materials for your outdoor improvement projects because they are durable, attractive, long-lasting, and available in various designs. We also recommend these materials for property owners with limited budget. Concrete paving are cost-effective materials since they are cheaper and easy to install. You won't have to pay extra dollars for labor cost since the paving project can be completed in a short period of time. 
At SCCR Landscapes, we've been creating beautiful outdoor features and amenities using top-quality concrete pavers. Our installation team is composed of seasoned paver installers who are all certified in interlocking concrete paver installation. We also have the tools and equipment for all kinds of paving projects, so we can complete them on time or even ahead of schedules. Our experience is not only limited to residential paving projects. We also have a lot of completed projects in commercial properties in the state. In fact, we have already built numerous paver features in various Georgia locations. Most of our projects were located in Cumming, Dawsonville, Alpharetta, Johns Creek and Buford, GA. Please contact us today if you want to have professionally designed and installed paver amenities.
Interlock Pavers
As a property owner, you want an outdoor amenity that is not only attractive but can also last a lifetime. And here at SCCR Landscapes, we can help you achieve this goal. We will build your desired paver amenities using the finest materials available. Our highly recommended paving materials are interlock pavers, which are popular among professional contractors and homeowners. These are excellent materials for your patios, driveways, decks, walkways, entryways, and other outdoor living spaces. You won't regret using concrete pavers for your outdoor amenities since they are proven durable, long-lasting, and available in a wide range of designs.
The use of interlock pavers in residential, commercial and public spaces is now a normal scenario. It is not surprising since this type of paving material has excellent qualities. The interlocking feature of our pavers is just one of the reasons why we highly recommend the product to our clients. They are easy to install, maintain, and repair. If there are damaged paver units, you only need to replace the damaged ones. Concrete pavers require minimal maintenance effort, so you can save on labor and other maintenance costs.
Permeable Pavers
We have the right solutions for those who are looking for eco-friendly paving materials. The permeable pavers that we offer and install are capable of managing water runoff and landscape flooding. There are certain designs that allow grass to grow between paver units. The permeable type will allow you to create a safer and more utilitarian outdoors. Most of our past clients are happy with the performance of permeable concrete pavers.
Please contact us now at 770-354-3486 or visit our office at Cumming, GA to personally discuss your paving project or the possible cost of installing a concrete deck or patio.