Concrete Work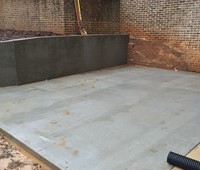 Concrete is a material that's used extensively in all landscaping projects. It's used in different types of hardscaping jobs and in many ways, provides a solid base for various other "live" features that will be installed in the landscape. If you live anywhere in and around Sugar Hill, Lawrenceville, Buford, Alpharetta and Suwanee and want to get some concrete work done on your property, it's important to hire the services of an expert and experienced company like SCCR Landscapes Inc for the concrete work.
Range Of Concrete Solutions
We have also handled a significant number of projects for commercial and residential property owners in Duluth, Roswell, Gainesville and Norcross. We handle concrete removal and replacement projects as well complete new installation projects as well. Every job we undertake will be in line with your specific requirements and the different types of concrete services we provide are:

Concrete Contractor
We are a renowned and much sought-after concrete contractor in Georgia. We offer various concreting services, including patios, driveways, decks, pavers, walkways, retaining walls, demolition, and concrete repairs. We are committed to providing our clients with high-quality services that meet their needs and fit their budgets. We are licensed, insured, and skilled enough to tackle any concreting work to industry standards. Our company caters to residential and commercial clients, handling all types of big and small concreting jobs to industry standards. We use the best, high-quality concrete mixes for superior finishes and outstanding results. Read More About Concrete Contractor >>


Concrete Patios
Patios are transitional spaces that see a significant amount of wear and tear. We recommend stamped concrete patios to our clients because the material is durable, long-lasting, and versatile. You can choose concrete in the color you want, and we will create unique stamping designs and patterns for the best effect. Our experts ensure that your stamped concrete patio looks fantastic and performs well for several years. We are committed to offering our clients value and tailoring our services to their needs. We can handle concrete patio projects on residential and commercial properties in and around Cumming, GA. Read More About Concrete Patios >>


Concrete Driveways
Driveways must be hardy and attractive because they are one of the first features people see when approaching your property. These surfaces must endure foot and vehicular traffic, so we recommend that concrete be used in these installations. Concrete is an incredibly versatile material, and it can be used for driveways and to create complementing walkways, pathways, stairs, decks, poolscapes, and more. We are committed to offering our clients excellent value and work closely with them to ensure they get unique solutions within their budget. Whether you want a driveway for your residential or commercial property, we can help. Read More About Concrete Driveways >>


Concrete Decks
Concrete is a tough and hardy material that lends itself beautifully to various features and surfaces. We recommend stamped and decorative concrete for decks as the material can withstand exposure to the elements and last long. We create the best designs and patterns on concrete surfaces so that your deck looks great and performs well for a long time. We offer value for money, and you will find that our concrete decks are cost-effective to install and maintain. We use the best materials in our work, so your concrete decks will always look fabulous no matter the season or level of use. Read More About Concrete Decks >>


Concrete Pavers
Pavers are undeniably some of the most popular products for outdoor areas like patios, walkways, pathways, decks, fire feature areas, and more. Although you get pavers of materials like brick and natural stone, concrete pavers are hardy, attractive, and cost-effective. This offers you excellent value for money, and you can be sure that your paver surfaces will last for a long time with minimal maintenance. We use the best quality pavers in our work and handle the installation to industry standards. Our company can handle large and small concrete paver installations on commercial and residential properties of all shapes and sizes. Read More About Concrete Pavers >>


Concrete Walkways
If the material is versatile, you can choose the color you want. Concrete can be stained, stamped, and designed how you want to create a unique look on your property. We offer a range of concrete walkway solutions, including concrete paver installations if you want. Our company can handle projects of any scale and complexity, and we cater to residential and commercial clients in and around Cumming, GA. We offer the perfect balance of high-quality, cost-effective services within your budget. Concrete is an excellent option if you want solid and long-lasting walkways on your property. Read More About Concrete Walkways >>


Concrete Retaining Walls
Retaining walls serve a specific function- they support the landscape and help prevent soil erosion. We offer custom concrete retaining wall design and installation. Our company handles all types of concrete works and has the skills, expertise, and resources to provide all kinds of concrete retaining wall designs and plans. We build these structures on residential and commercial properties, ensuring they are stable, solid, and attractive. We can create decorative finishes on the surfaces, so your retaining walls look unique and beautiful. We offer customized services to ensure that your concrete retaining walls are maintained. Read More About Concrete Retaining Walls >>


Stamped Concrete
Our stamped concrete contractors and construction crews have years of expertise working on a wide range of residential and commercial stamped concrete projects. Every job we take on is approached with a solid dedication to work, the highest quality materials are used, and our industry experience is unmatched. Let us help you create beautiful and durable stamped concrete patios, driveways, walkways, decks, retaining walls, and sidewalks for your residential or commercial property. Read More About Stamped Concrete >>


Concrete Demolition
There are times when landscape projects involve land clearing and demolition of existing structures. We are an all-service concreting contractor offering various services, including concrete demolition. We have the necessary equipment, tools, and skills to handle this job safely and skillfully. We also know that it is essential to complete this job within a specific timeframe to align with the other works that will take place on-site. Our crew is efficient and professional and will ensure that the concrete demolition takes place on time and per your requirements. We offer these services to residential and commercial clients. Read More About Concrete Demolition >>


Concrete Repairs
Concrete is a durable material that can endure exposure to the elements very well. However, ultimately, there are times when age, exposure to the elements, or poor maintenance take their toll on concrete structures in landscapes. If you find that any concrete features on your property, like pavers, retaining walls or walkways, etc., have begun looking old and dated, contact us for reliable and prompt concrete repairs. We are a leading company in the industry, providing superior service to residential and commercial clients in and around Cummings, GA. We are efficient and professional and offer the best services at cost-effective pricing. Read More About Concrete Repairs >>



We understand that all these concrete installations are going to be the base of the rest of the features on your property and it's important that the best materials be used in the work. The workmanship will be top of the line and we ensure the best finishing and detailing as well.
Different Aspects of Concrete Installations
We are a company that's highly focused on providing solutions that work perfectly for our customers. The things we focus on:

High grade concrete work that is structurally strong and sound

Low shrinkage mix used. This reduces the chances of cracking and pop-outs

The concrete used in our work has clean aggregates – this ensures the quality of the materials and fastness and consistency of colors

The concrete edging is finished in a very detailed manner and this lends a neat look to the landscaping

In most instances, masonry installations are part and parcel of a larger landscaping project. In some cases, clients ask us for standalone concrete features or want to replace or upgrade existing ones and we handle that job too. On board our team are highly experienced personnel that work in a concerted and detailed manner and provide high grade concrete installation solutions that will last for number of years.
High Quality Concrete Work
We are the experts that go out of the way to ensure that all the installations are right in line with the vision you have for the outdoor spaces in your home. If you are considering installation of any type of hardscape feature, call us with your requirement today. We are creative and innovative in our approach to our work and complete every project in a detailed and timely manner. Call us at SCCR Landscapes Inc on 770-354-3486. You can also contact us using this online form.