Concrete Walkways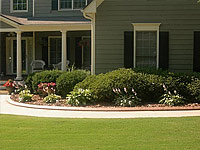 SCCR Landscapes is one of the leading concrete contractors in the state of Georgia. We have decades of experience in landscaping and property improvement so we can work on almost all kinds of masonry projects in residential and commercial properties. Among the tasks that we can perform is concrete walkway installation. This is a vital feature in any kind of landscape so it must be designed and installed by a well-experienced contractor like us at SCCR Landscapes. Our concrete walkways are proven durable and long-lasting. We make sure that the structure is well-designed to withstand constant use and extreme weather conditions.
If you are planning to add concrete walkways on your landscape or outdoor area, please contact SCCR Landscapes today. We will send our personnel to your location to perform careful assessment of the area. We do this to help our team determine the kind of walkway to build and the cost of the entire project. This will also help our designers come up with highly customized concrete walkway plans. With this approach, we always meet and even exceed our clients' expectations. The stunning walkways that we have created for clients from Cumming, Dawsonville, Alpharetta, Johns Creek and Buford, GA are proofs of our expertise in this field. Dial (678) 208-0940 now so we can start working on your walkway installation project.
Installation of Sidewalks & Curbs
At SCCR Landscapes, we also install sidewalks and curbs at reasonable rates. We follow our proven approach when working on these projects, so you are assured of durable structures. We will create a well-thought-out design plan to meet your needs and design specifications. We also consider the local building code when designing your sidewalks. We take note of the project specifications to ensure your full compliance with local or state regulations.
Installing custom-designed curbs in your landscape will dramatically improve the overall appeal of your property. Since these are outdoor features, we use only premium materials from trusted suppliers. We recommend tough materials such as concrete blocks, pavers, bricks, and natural stones. Each material has distinct characteristics, so we only recommend those that will complement well with other features in the landscape such as the garden steps and concrete walkways. 
Long-Lasting Concrete Walkways
One of the reasons why we are the choice of many Georgia homeowners is our ability to create long-lasting concrete walkways. Walkway installation may seem a very simple job but it actually requires skilled installers with deep knowledge of masonry techniques. The use of appropriate masonry tools and equipment is also needed to ensure fast and accurate installation. If you hire incompetent contractors, you will likely get subpar walkways that will not last long. The result will be frequent repairs and high maintenance cost. At SCCR Landscapes, you won't experience these problems. We strictly follow the design plan and carefully prepare the site where the walkways will be built. We apply proven installation methods and use topnotch materials to achieve the kind of walkway that you desire.
Call us now and hire SCCR Landscapes today for your concrete walkway installation project.