Landscape & Hardscape Services
We at SCCR Landscapes Inc. are a reliable landscaping company that caters to clients in and around Cumming, Canton, Holly Springs, and Woodstock. We also handle mulch deliveries for customers across Milton, Alpharetta, Gainesville, and Sugar Hill as well as Dawsonville. If you need our specialized services for your commercial or residential landscaping projects in John's Creek, Buford or Oakwood, we are the company to call. The range of services we provide includes:
Pavers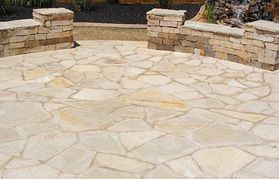 When it comes to installing flooring in outdoor spaces, segmental pavers are a great option. They are versatile and can be used in various outdoor spaces including patios and decks, driveways, walkways and pathways. They are also suitable for pool decks, entryways, and courtyards. We use segmental concrete products manufactured by Pavestone Company in our commercial and residential paver installation projects. These pavers are available in a range of colors, designs, styles, and shapes and we can create stunning patterns on our client's properties using these units. Read More About Pavers >>
Retaining Walls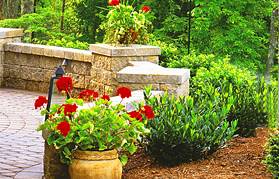 Sloped outdoor spaces in a landscape make it difficult to install any outdoor features without excavating and leveling the land first. But the open spaces also need some support and retaining walls serve this purpose. These features provide the landscape the support it needs and help prevent soil erosion as well. We can design and build retaining walls made of natural stone, concrete blocks, and wood. Based on your function and aesthetic needs, we can build walls with combination materials as well. Our team will ensure that every retaining wall is engineered to perfection and constructed using good quality materials and workmanship. Read More About Retaining Walls >>
Flagstone Patios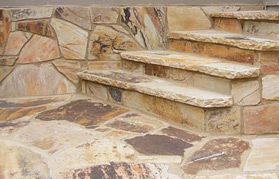 Flagstone is an excellent material to use for patio installations. Not only is it aesthetically appealing, but this natural stone is extremely durable too. It creates a very natural and rustic look in the landscape and complements the aesthetics of the features in the landscape as well as your home. Flagstone is available in a range of sizes, shapes, colors, and textures which mean using this material can help you create great outdoor spaces. When you hire us for flagstone patio installations, you can rest assured that the work will be completed to your 100% satisfaction. Top quality materials and craftsmanship ensure these features look great and are long-lasting too. Read More About Flagstone Patios >>
Outdoor Living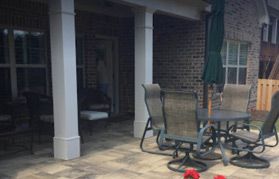 We specialize in a wide range of outdoor living features including outdoor kitchens, outdoor fireplaces, fire pits, decks, and pergolas. Whatever the type or scale of your outdoor living area project, we can handle all the stages. From excavation and grading to landscape design to patio and other outdoor living features installation, we provide comprehensive services. We handle all aspects of the project – from initial design to the walk-through. Our team comprises designers, architects, and all types of craftsmen required to address different areas of your project. Your project manager will supervise the project at each stage, ensuring it stays on schedule and budget. Read More About Outdoor Living >>
Outdoor Kitchens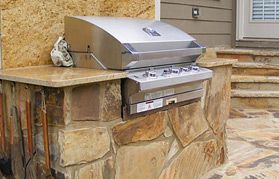 We are the custom outdoor kitchen designers and installers that can provide cost-effective solutions. Our team is highly creative and knowledgeable and has the ability to design and build outdoor kitchens that will be a true value-add to your property. We plan every little feature and element in this space down to the last detail and will make sure that the space is practical, resilient and aesthetically appealing. We will make sure that there is plenty of seating space and that the flooring is paved with quality flagstone or other paving materials. The storage space and cabinets will be planned well and care will be taken to ensure that there is proper space allocation for all your appliances like a gas stove, BBQ etc. Read More About Outdoor Kitchens >>
Fireplaces and Fire Pits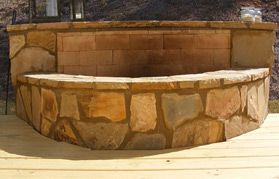 A fire feature is a great addition to your landscape and we are the experts that can design and install custom fire pits and fireplaces for your residential property. This feature could be built using materials such as concrete, brick or natural stone and you can rest assured that the design and appearance will be unique. Our team will ensure that the aesthetic of these features complements the other installations in the landscape. We also make sure that the cost of the fireplace or fire pit fits into your budget. If you want features such as a grill added to the fire pit, we can do that as well. Read More About Fireplaces and Fire Pits >>
Concrete Work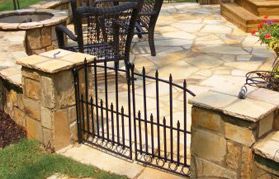 Concrete is a widely used material in all landscaping projects. We are the expert concrete contractors that can handle the design and installation of concrete patios, decks, driveways, walkways and more. In addition, we also build concrete walls, handle concrete demolitions of all sizes and shapes and handle all types of concrete repair jobs in landscaped areas. Whether you want a driveway installed or a new paver patio, we are the company to call. We handle concrete staining and concrete stamping projects and make sure these features are installed to perfection. Our company also tackles all other types of flatwork on residential and commercial properties. Read More About Concrete Work >>
Concrete Edging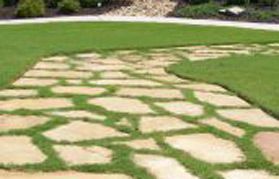 One great way to enhance the appeal of a landscape is to install concrete edging. While hardscaping adds solidity to the landscape, edging lends it a more well-defined look. We provide concrete edging services that incorporate the overall project from the trenching installation and can include drainage solutions as well as sealing. Not only does concrete edging complement the look of the landscape, but reduces maintenance as well. It lends a very tidy and neat look to the outdoor spaces on your property. We can provide custom stamped residential and commercial curbing services with top quality materials and craftsmanship.
Grading and Excavation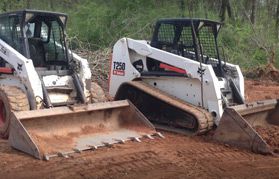 If you have uneven outdoor spaces and need to plan and install various features and landscaping elements, it becomes important to excavate the land and then grade it expertly. We have the experience and equipment required to handle all types of big and small excavation jobs and make sure that the work is completed to industry standards. Care will be taken to ensure that the grading is done properly and that the land gently slopes towards the outer boundary wall. This helps prevent pooling of water on your property and accumulation of water near the foundation of your home or commercial structure. Read More About Grading and Excavation >>
Landscape Design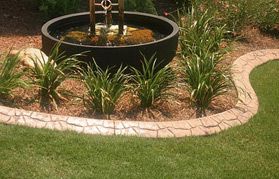 We can design and plan your residential or commercial landscape to perfection. On our team are expert landscape designers that have the creativity, skill, and experience to design and plan landscapes creatively. They will make sure the plan has the perfect balance of hardscaping and softscaping elements and that every feature is designed to create a seamless look in the outdoor areas of your property.  We ensure that the designs we provide improve the appearance, functionality, and durability of your outdoor spaces. Read More About Landscape Design >>
Planting and Sod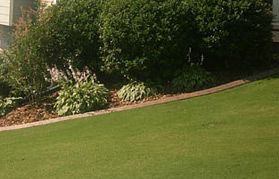 We provide excellent planting and sod installation services. Our company understands that the beauty of your landscape, to a large extent depends on the types of plants, trees, and lawns that have been installed there. We work closely with you to make sure that you get the types of plantings you want. In addition, we provide custom sod installation services as well as comprehensive landscape maintenance solutions. We use organic fertilizers and the best quality products in our work ensuring the longevity and sustainability of your landscape. Read More About Planting and Sod >>
Decks and Pergolas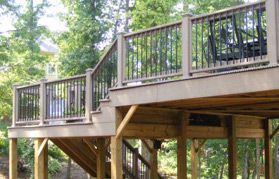 Most homeowners like to add decks and patios to their homes. These features extend the indoor living spaces and allow you to use your yard spaces optimally. However, it's important that these features be installed well. We have the skills and experience to handle the design and installation of decks and patios of all types. Our team of expert landscape designers can also plan and install pergolas for your deck or patio. This feature is a great addition tothe space because it lends a certain amount of shade to the patio or deck. We will ensure that the design and styling of your pergola complement the look and appeal of your landscape. Read More About Decks and Pergolas >>
Outdoor Patios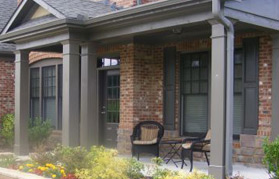 Our company provides superior outdoor patios and high-quality paver installations in Cumming, GA. We take pride in transforming your outdoor spaces into stunning and functional areas that leave a lasting impression. Our experts are committed to delivering excellence in every project we undertake. Whether you envision a cozy patio to relax with family or an inviting space to entertain friends, we've got you covered. With an eye for detail and a passion for craftsmanship, our paver installations are impeccable, adding beauty and value to your property. We understand that each client's needs are unique, so we offer tailored solutions to match your preferences and budget. From the initial consultation to the final touches, we work closely with you to bring your vision to life. Our dedication to using only the finest materials ensures that your outdoor patio stands the test of time and weather conditions. We offer our clients the perfect balance of quality, service, and value. Read More About Outdoor Patios >>
Lawn Maintenance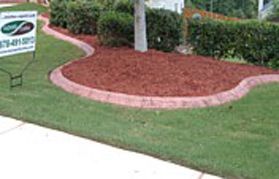 Whether it's a residential or commercial property, the outdoor spaces are a reflection of your style sense and preferences. This is why it becomes important to ensure that all the areas are maintained well. Most people have some lawn spaces on their property and the grass needs regular care and attention to keep it looking great right round the year. We provide tailored lawn maintenance solutions that meet the needs of the grass. These can include aspects such as mowing, aeration, de-weeding, pest control, fertilization and more. We use organic lawn care products which ensure the grass stays healthy and lush and improves the functionality and appearance of your landscape. Read More About Lawn Maintenance >>
Erosion Control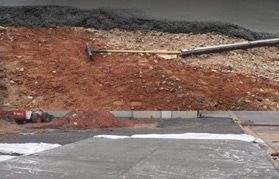 It's important to incorporate erosion control into landscapes to prevent the soil from washing away. In fact, these measures also help retain the nutrients in the soil which helps improve the appearance and health of the plants, trees, and lawns on your property. There are a number of different types of erosion control such as the installation of dry river beds, drain lines as well as new plantings. We understand that every property is different and it's why we provide tailored solutions that meet the needs of your landscape. A thorough survey will be conducted before the right types of erosion control features are installed on your property. Read More About Erosion Control >>
Mulch Delivery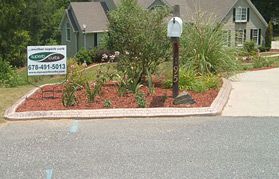 We provide excellent mulch delivery services to commercial and residential clients across the region. We like to ensure that our clients get value for money when they opt for any of the products we supply. It's why we carry top quality Cowart mulch products. You can choose from red hardwood, dark brown hardwood, hardwood blends, black hardwood, pine nuggets and more. You can rest assured that when you source your mulches from us, they will help improve the health and appearance of your landscaping. We can provide you the types of mulches you require, in the quantities, you need them in. Read More About Mulch Delivery >>
For any more information on our services, feel free to call SCCR Landscapes Inc. at 770-354-3486. We will provide you with all the information you need as well as wooden mulch cost for the quantity you need. You can also send us your request via the Contact Us form on our site and we will respond quickly.