Concrete Demolition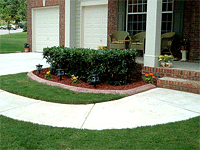 A concrete demolition project is best left in the hands of professional contractors. You need expert people to remove old or dilapidated concrete structures in your home or commercial property. These people are well-trained and knowledgeable of the right demolition methods and techniques. They also use modern tools and equipment to complete the job faster and efficiently. However, some of them charges too much for a simple demolition job. You can avoid this pitfall by hiring a trusted contractor like us at SCCR Landscapes. Our rate is among the lowest in the state but we make sure that clients will get topnotch services.
Please contact us today so we can discuss the details of the demolition job, the estimated cost, and the project's labor requirements. Although we are based in Cumming, clients from other Georgia areas can still hire our concrete demolition services. In fact, we have numerous satisfied clients from Dawsonville, Alpharetta, Johns Creek, Buford, and other GA areas. They hired us for various demolition jobs such as tear out of driveways, walkways, curbs, walls, decks, and other concrete features in their property. Dial (678) 208-0940 today to know more about this specialized service.
Concrete Demolition Experts
As mentioned, we are one of the local contractors that can be trusted when it comes to concrete demolition jobs. We employ highly skilled masons and experienced crews, so we can complete the job efficiently and promptly. We are able to hone our skills with the continued support of our loyal clients. They rely on us whenever they need professionals who can expertly remove concrete structures in their property. We also train our people to keep them updated on the latest demolition techniques and methods.
Our efficient handling of concrete demolition projects has been proven by many satisfied clients across the state. Every project that we work on is handled by properly trained professionals. Aside from the skilled people that we send to your location, we also use appropriate tools and equipment. These resources help us perform efficiently and complete the job on time or even ahead of agreed schedule.
Versatile Concrete Demolition Team
The great thing about hiring us is that we have a very versatile demolition crews. They can work on any kind of concrete demolition job, whether in homes or commercial properties. We can tear out driveways, walkways, curbs, and other types of concrete structures.
Moreover, our people are well-versed in the use of specialized tools and heavy duty equipment, such as excavators, graders, jack hammers, pulverizers, and the like. We also assure you that damages on other structures will be avoided because of our systematic procedures and efficient workflow. With our complete resources and knowledgeable people, you are guaranteed of a safe working area and excellent output.
Contact SCCR Landscapes today to discuss the scope of your concrete demolition project. Will it involve tear out of driveways, walkways, and curbs or removing larger concrete structures in your property? We need all the details so we can prepare the necessary equipment and resources. The information will also help us determine the total cost of the project. Please call (678) 208-0940 or visit our office at Cumming, GA.