Outdoor Living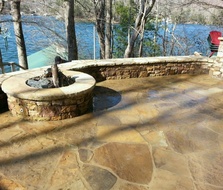 SCCR Landscapes is your full-service landscaping and hardscaping service provider in Cumming, Georgia. We have almost two decades of industry presence and there is no project that is too big or too small for us. From hardscapes to plantscapes, we specialize in designing and installing aesthetically pleasing and functionally meaningful outdoor living spaces. We specialize in the use of all types of landscaping materials, as we have strong business relationships with leading suppliers from all over the country.

Does your outdoor and yard look drab and boring? Does it feel unwelcoming and unusable at times? We have been transforming outdoor living spaces with beautiful and functional features for almost two decades now. We can design and build a wide range of features to transform your outdoor into a relaxing, enjoyable, and entertaining space. Some of these features include outdoor kitchens, fireplaces, fire pits, decks, and pergolas. We work with all types of materials including pavers, bricks, stone, tiles, and stone veneers among others. From modern style to rustic statements, we can create any design element you may prefer.
Outdoor Kitchens
We use our decades of combined experience in designing the outdoor kitchen of your dreams. From the initial design to the choice of materials to construction to picking the hardware, you will find us taking care of everything for you. We provide custom outdoor kitchen design and installation services based on your vision, what you like to cook, the number of people you would like to entertain, and many other considerations.

The improvements in the durability of outdoor appliances have made outdoor kitchens even more popular. Our designers and hardscaping professionals will assess your outdoor living area, learn about your vision, and share our expert ideas on achieving the best results for the outdoor feature. Outdoor kitchens are among the most complex hardscaping projects because so many components are involved. The appliances you want to use, and the finishing touches are also important considerations in the process. Read More About Outdoor Kitchens >>
Outdoor Fireplaces
We design and install outdoor fireplaces that convert your outdoor living area into a paradise. With a professionally designed fireplace, you can spend more time outdoors with friends and family for three seasons or even all year round. We design and build custom fireplaces using all types of popular materials. You can also opt for stone walls, grand mantles, inset lighting, and wooden cubbies. Your fireplace can also be designed along with other features such as a patio, outdoor kitchen, pathway, and pool deck.

We have the experience and expertise in designing and installing different types of outdoor fireplaces depending on your choice. This includes wood-burning and propane-burning, and outdoor fireplaces with pizza oven. These features improve the quality of your outdoor living experience. We can create the perfect feature that enhances the entertainment factor. You can extend your outdoor entertaining season into the fall and spring a well. Besides, our professionally designed outdoor fireplaces add a beautiful ambiance to your outdoors and increase your home's value. Read More About Fireplaces >>
Outdoor Fire Pits
A custom outdoor fit pit designed by our experts can add an ambiance to your landscape and create opportunities for you and your family to enjoy the chilling evenings. We specialize in designing and installing different types of fire pits and in different styles. Our circular fire pits allow your friends and family to sit around the flickering flames. The design allows everyone to engage in deep conversations while getting equal access to the heat.

Our L-shaped and rectangular fire pits are also widely popular with our clients. The L-shaped fire pits are perfect for large gatherings and big families. The design allows the flames to be accessible in two directions, creating more space for seating. There is more to our custom-designed fire pits than improving the relaxation potential of your yard. With these features, you can also expect your home to get a boost in its value. Read More About Fire Pits >>
Decks and Pergolas
We can design and add a custom, beautiful and durable deck, and pergola to your yard to enhance your outdoor living area. We work with different types of materials to create a stylish and functional space so that you can relax and enjoy the outdoors with friends, family, or alone. All our projects involve the use of top-grade materials that exceed your expectations in the areas of aesthetics and durability.

From paved decks to wooden decks with rails and pergolas fitted with a custom bar, we can design the features to your specifications. With so many materials and design options to choose from, we will help you choose the right deck material for your project. When it comes to our pergola installation services, the feature will be custom-built based on all the key factors including your landscape and local conditions. Your pergola will allow you to enjoy the outdoors while avoiding the sun and rain. Read More About Decks and Pergolas >>
Outdoor Patios
Your home's interiors will seem more open and spacious when you install a patio in your yard. You have the option of covering the patio entirely or partly, depending on your preference. Because patios are generally exposed to the elements, it is essential that the materials used in their construction be long-lasting and weather resistant. The best way to ensure that the structure will endure for many years is to hire skilled professionals like us. We help with material selection and handle the installation to industry standards. Pavers are the best material option for these spaces. A well-planned and perfectly installed patio is a beautiful addition to any home, and it requires the least amount of upkeep over the long term. If you're going to build an outdoor kitchen on it, the paver units will look fantastic. The design of your patio must blend in with the rest of your home's exterior and the surrounding vegetation, which we focus on. Read More About Outdoor Patios >>
If you want to learn more about our outdoor living design and installation services, contact SCCR Landscapes at 770-354-3486. We are a fully licensed and insured company with decades of experience. You may also send us your queries using this Online Form.