Landscape Design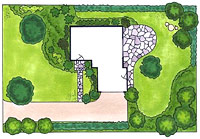 A beautiful landscape always adds to the first impression of your property. This is the reason why many homeowners place a lot of importance to their outdoor living space. Designing and building your ideal landscape is a difficult task but with the help of professional landscapers at SCCR Landscapes; this will become a reality. Experienced landscape designers and landscape contractors can turn your mundane outdoors into a magnificent landscape setting which will be the envy of all your neighbors.
The aim for any landscape designer is to create a simple but eye-catching landscape design. However, we understand that everyone has their own personal style and tastes and that there are homeowners who will want complex landscape designs. Our team of professional landscape designers will sit down with you and custom design a landscape setting that you will be completely satisfied with. Unlike other landscape companies we realize that it is your satisfaction that maintains our success.
It is a must that only licensed and reliable landscape designers and landscape contractors are hired for your landscaping project. For residential and commercial property owners throughout greater Atlanta Georgia; a landscaping company that they can always count on to do the job right is SCCR Landscapes.
Features of a Great Landscape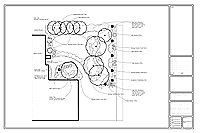 SCCR Landscapes is a full service landscaping provider. We are capable of providing innovative and stylish designs for your landscape settings. SCCR Landscapes will not only create stunning landscape designs but we will also install every component of your landscape project. Some of our design and building services include patios, outdoor fireplaces, firepits, outdoor kitchens, sprinkler irrigation, water features, decks and pergolas, paver installation, retaining walls, erosion control and a whole lot more.
Patios and Paver Installation: Patios are becoming one of the most popular landscaping projects for homeowners nowadays. And the reason for this is that a patio can add so much to any landscape. Pavers have become the most common material for patios, driveways and walkways. There are so many great features including the fact that they are available in a wide range of materials, colors, shapes, sizes and textures; making them a great product for design!
Water Features: the addition of any water feature to any landscape will really enhance the aesthetic and the atmosphere on a whole. Water fountains, ponds, waterfalls, and water gardens will give your landscape life and a tranquil feel to it. Our designers have many years of experience in designing some very unique and elegant water features across Atlanta, GA.
Outdoor Kitchens: Outdoor Kitchens are a great place for bonding with family and friends and entertaining. When having get-togethers, an outdoor kitchen will surely make everything perfect for the celebration and so much easier for the host. Gone are the days when you had to be stuck inside cooking meals, now you can be outside in your outdoor kitchen amongst all the action. You don't have to miss out on all the fun anymore!
Expert Design Services
SCCR Landscapes is a professional and experienced landscape design company in Georgia. We have a long list of services for any landscaping or hardscaping project needs that you may require. We are serving both residential and commercial customers throughout the great Atlanta Georgia region. We are committed to providing outstanding landscape design services to all of our customers.