Grading and Excavation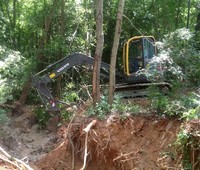 When we think of landscapes, some of the first things that come to mind are the plantings, trees and lawns; these are the things that people keep in view when they are planning to get their garden or yard installation done. While these are definitely a very important part of the project, there are some aspects such as grading and excavation that most people don't even think about. SCCR Landscapes Inc has handled a large number of projects for customers in and around Sugar Hill, Lawrenceville, Buford, Alpharetta and Suwannee.
We are the experts that provide end-to-end installation of various landscaping features. Over the years, we have catered to a large number of commercial and residential customers across Duluth, Roswell, Gainesville and Norcross. A lot of properties tend to have sloping land.
What is Grading?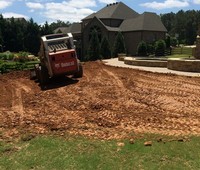 At times, the spaces are uneven and if we have to design and install a landscape that is strong at the foundation and one that will stand strong for a number of years, the land will first have to be graded well. We implement the grading process in almost every project we take up. Our expert landscapers will come and survey the property and understand what the layout of the land is. Excessive slopes can lead to soil erosion and it's important that the landscape be graded before the actual project starts.
If the land isn't graded right, you will find that there are pools of standing water at different places in the landscaping. This impacts the integrity of the landscapes and has a negative impact on the longevity of the landscape installation. The best way to avoid this is to get the land grading checked and adjusted before the hardscaping and softscaping features are installed.
What about Excavation?
Excavation is another essential service that is part of the landscape installation process. The land will have to be dug at various points to accommodate the irrigation and drainage systems. In addition, when large trees or planter beds have to be installed, a certain amount of excavation work takes place. Driveway, pathway, pool and pond features also need excavation services, before they are actually installed.
We use the latest excavation equipment in our work. On our team are highly skilled and well trained personnel that have worked on a large number of landscape projects. We know exactly how to do the excavation and digging job and then grade the land to ensure proper run-off of water from the patio and deck areas.
Expert Land Grading and Excavation Services
The entire land grading and excavation work is completed in a very meticulous, contained and confined manner and this ensures the landscaping gets the right structure. Even as w maintain the highest quality standards in our work we also maintain very reasonable grading and excavation costs and provide you value for money every time you hire our services. For more information about these services, call SCCR Landscapes Inc at 770-354-3486. You can also contact us using this online form.