Paver Patios & Driveways Cumming, GA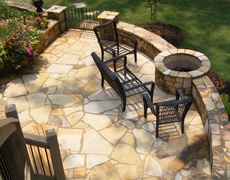 Among the most versatile building and landscaping materials are pavers. Most contractors and DIY-savvy homeowners use them to create various outdoor improvement pieces due to their excellent aesthetic merits. They are also very durable, easy to install, and low maintenance. And if you are looking for competent paver installers, we are the right company to hire. We can work on all types of paver installations such as the creation of paver patios and driveways. We have designed and built many of these fine outdoor amenities for clients in Cumming, Alpharetta, John's Creek, and other areas nearby. Just look at our portfolio to see some of our past works and get an idea of our expertise and skills.
Our Creation Process when Working with Pavers
One of our finest qualities is the systematic and creative installation of paver driveways and patios. Everything starts with actual assessment of the areas where these features will be installed. During this stage, we note all our clients' ideas and specifications. We then come up with the design and installation plan, which serves as our guides during the building process. We also ensure proper preparation of the areas – grading, hauling, excavating, and others.
We guarantee expert installation by our certified crews who use task-appropriate tools and equipment. We likewise use only the finest quality materials from partner suppliers to satisfy our clients' design and build requirements. Finally, we perform quality checks to ensure that everything in the plan is followed down to the smallest details.
Paver Patio and Driveway Designs
One exciting thing about using pavers to build patios and driveways is the immense possibilities of designs and themes, as well as laying patterns. This is particularly awesome if you're the type who wants a personalized look for your outdoor features. You may choose from modern, contemporary, Old World, and European or Asian theme. It is also easy to install paver patios and driveways using any of these patterns: herringbone, circular, European fan, basket weave, and running bond.  All you have to do is let us know which pattern, theme, and design you prefer, and we'll achieve the look that you want.
Premium Paver Materials
Our clients are guaranteed of exceptionally stunning, durable, and functional paver patios and driveways with the high quality pavers that we use for our projects. All our completed projects in Cumming and nearby Georgia cities feature premium pavers from our long-time partner Pavestone. They have a wide range of paver products that are absolutely a joy to work on. They offer several stunning designs and themes that can satisfy the discriminating taste of clients. Some of their popular paver collection includes Capriana, Bishop's Hat, City Stone, and Carriage Stone. They even have ADA-compliant pavers, which are equipped with features that are friendly to people with physical or sensory disabilities.
Flagstone Patios and Driveways that Last
For our clients in Cummings, GA and surrounding areas, we can also guarantee them long-lasting flagstones patios and driveways that they can enjoy for decades. With time-tested installation methods, finest materials, and skilled installation crews, we can assure you that your patio and driveway can withstand repeated freeze-thaw conditions without requiring repairs. We are confident about the quality of our work and the excellent design and build merits of our installed driveways and patios.

So call us now at 770-354-3486 for more details of our paver patio and driveway installation services.