Landscaping Features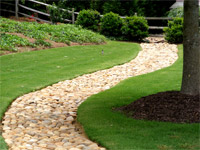 The long list of successful projects of SCCR Landscaping Group makes us the best landscape contractor to hire in Ohio. Our company has been serving Cumming, Dawsonville, Alpharetta, Johns Creek and Buford, GA since 1994 when we opened for business. We are a one-stop shop of all things related to landscaping, hence giving our clients the convenience of working with only one contractor for all their landscaping needs.
Please give us a call today at (770) 354-3486, and let us handle your landscape improvement concerns.
Our Credentials
There are very few landscaping companies that possess credentials as solid as ours. Modesty aside, we are the best landscape contractor that you can possibly hire with our fine qualities such as:
Partner suppliers. Without our trusted partner suppliers, it would be very difficult for us to guarantee our clients exceptional outcomes from the landscaping tasks that they hire us for. Among our partners include trusted names, such as Pavestone, which manufacture some of the finest landscaping materials available on the market.
Expert crews. The expertise of the crews working for us can never be doubted, given their decades of combined experience. Our workers have completed numerous landscape projects in the past and until today, making them fully aware of the needs of our clients. They know what to do given a particular scenario, and they work efficiently by following industry best practices.
Landscaping Services that We Offer
Our company has been providing Georgia clients with topnotch landscaping services. We cover all aspects of landscaping that includes the following:
Landscape Design. We have expert designers who can translate our clients' ideas into vivid and detailed landscape design plans. Our design team uses modern computer software that allows them to create exceptionally stunning design renderings.
Lawn and Plant Installation. We have crews who are skilled at installing various plants and turf to achieve a stunning lawn that is truly inviting. We also have access to the best nurseries and plant suppliers, so getting your desired greens won't be a problem.
Paver Installation. As a landscape contractor, we have completed many paver installation projects in Cumming and other GA cities that we serve. We have installed patios, decks, driveways, walkways, and the like, all following our clients' specifications down to the smallest details.
Lawn Maintenance. We have made countless properties more stunning with premium landscape and lawn maintenance services that we offer. We have crews who are skilled and experienced at caring for your lawns and making sure that they are looking their best all year round; no matter what the season may be.
Fire Features. Our company has been installing beautiful and functional fire features for our valued clients. We have created outstanding fire pits, and outdoor fireplaces using the finest materials available to us. Let us help you change the way you use your outdoor space!
Call us today and let us prove to you that we're the best landscape contractor to hire for your landscaping project.