Hardscaping Features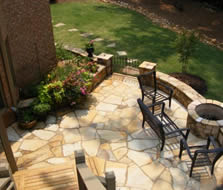 Hardscape features such as patios and retaining walls are primarily utilitarian structures that provide added functionality to outdoor areas. For example, retaining walls are typically built to hold back soil and prevent erosion. Meanwhile, hardscapes can also be aesthetically pleasing, such as in the case of well-crafted patios and pool decks. Such amenities can also add market value to properties, which then make for a great investment. With these benefits, it's only wise to hire competent and experienced contractors to handle your hardscaping projects.
At SCCR Landscaping Group, we are one of the best hardscape installers in the State of Georgia.  For decades now, we have served countless commercial and residential property owners in Cumming, Dawsonville, Alpharetta, Johns Creek and Buford, GA. Our record in the hardscaping business is truly commendable, having created some of the most stunning hardscapes in these areas. Call us now and let's talk about your desired hardscaping features.
Hardscapes that We Create
We can work on all types of hardscape features for commercial and private properties. We have in-house crews who take care of the design and build requirements of our clients. Here are some of the awesome hardscaping tasks that we can accomplish for you:
Driveways. Let us create an extraordinary driveway in your property that is functional, stunning, and durable. We have designed and built dozens of beautiful driveways for residents of Cumming, GA and surrounding locations so we know what it takes to create the perfect driveway.
Walkways and Garden Steps. We want people to spend as much time as possible in their backyard so we create stunning walkways and garden steps. We use beautiful and sturdy pavers to ensure unmatched aesthetic lift to any outdoor space.
Retaining Walls. Retaining walls will not only keep soil erosion at bay but also enhance the beauty of your yard. This hardscaping project will require professionals like us since the walls must be sturdy enough to hold back tons of soil especially in hilly areas.
Fire Features. Let us make spending in your outdoors during cold weather comfortable with awesome fireplaces and fire pits. We can install a fire pit, a fireplace, or a simple fire bowl to keep you warm during cold days and nights.
Outdoor Living Features. Allow us to extend your living room into your yard by creating outdoor living features such as patio, outdoor kitchen, deck, and gazebo. We will create these structures according to your specifications for a truly personalized appeal that you'll love.
Outdoor Kitchens. We can custom design and build you the outdoor kitchen of your dreams. This outdoor living feature will really transform the way you use your outdoor space. Make entertaining your loved ones so much more practical with the addition of an outdoor kitchen.
The Best Hardscaping Contractor
We are capable of creating excellent hardscape features using the finest materials available. Through the years, we've done simple to complex hardscaping projects that tested our skills and resources to the limit. Our decades of experience in landscape improvement allowed us to become versatile workers with flair for the extraordinary. As such, we can handle projects for residential and commercial clients in Cumming and other Georgia locations. We can guarantee world-class hardscapes without the hefty price tag, which is why we are among the most sought-after contractors in the state. Call (770) 354-3486 right now.