Outdoor Patios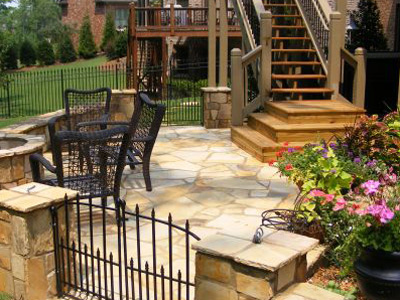 Discover the multitude of benefits that patios bring to your outdoor living area with SCCR Landscapes, Inc., the proven company for superior outdoor patio design and installation services in Cumming, GA, and its surroundings.

You and your family can indulge in the charm of a well-designed patio as it becomes a delightful extension of your living space, offering versatility for relaxation, entertainment, and cherished moments with loved ones. At SCCR, we take pride in our professional expertise, working closely with you to craft the perfect outdoor oasis that complements your unique style and preferences.

From concept to completion, our team ensures that every detail is meticulously executed, providing you with a patio that enhances your property's value and becomes a cherished destination for leisure and enjoyment. Embrace the beauty and functionality of an exquisite patio designed by SCCR and make the most of your outdoor living area today.


How Patios Add Value to Your Outdoor Areas
There are many reasons to consider adding an outdoor patio to your yard, such as:


Tailored Versatility: Transform your outdoor space into a personalized haven with a patio that caters to your lifestyle and preferences. Whether hosting lively gatherings, unwinding with a good book, or savoring outdoor meals, a well-designed patio offers the versatility to adapt to your every need.


Expand Your Living Area: Experience the luxury of extra living space with a thoughtfully crafted patio that seamlessly extends your home's boundaries. Embrace the beauty of nature while basking in the comforts of your living room, creating a harmonious blend of indoor and outdoor living.


Enhanced Aesthetic Appeal: Elevate your property's charm and allure with a stunningly designed patio that leaves a lasting impression. A visually appealing patio creates an inviting ambiance while increasing the overall value of your home, making it a sound investment in both comfort and equity.
Our Approach to Design and Installation
Choosing professionals like us for your patio design and installation ensures exceptional results and a stress-free experience. Here's how we guarantee a patio that surpasses your expectations:


Premium Pavers Selection: We believe in using only the best materials for patio installations. Whether you prefer the timeless elegance of concrete pavers, the natural allure of stone pavers, or the rustic charm of brick pavers, our extensive range of high-quality options caters to your style and preferences.


Customized Design and Meticulous Planning: Collaborating closely with you, our team of experts delves into your vision and goals for the perfect patio. Considering your outdoor space's dimensions, layout, desired features, and budget, we craft a tailored design plan that meets your unique requirements.


Attentive to Every Detail: Perfection is our priority; we leave no stone unturned in patio design and installation. Precise measurements, meticulous site preparation, proper drainage, and precise leveling are just some of the steps we take to ensure every detail is handled carefully.

We have the skills, experience, and resources to design and install the best outdoor patios. Our company works on new installations and replacements or upgrades of existing outdoor spaces. For more information, please call the SCCR Landscapes team at 770-354-3486 or email us through this Online Form.