Fireplaces and Fire Pits Canton, GA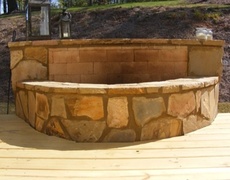 Landscape designing is an art and it's a lot more than just adding a few trees and shrubs and growing a patch of turf. The minute you get a feature such as a fire pit or fireplace installed on your property, it creates a very unique and inviting look. Having such an area outside allows you to spend some quality bonding time with friends and family especially in the cooler months of the year. Today, a large number of homeowners in and around Canton, GA, opt for stone fireplace installations in their backyard. At times, these may be installed in an open space or in a semi-enclosed outdoor kitchen area too.
Creating a functional backyard and making optimal use of the available space is a lot about making sure that you get the right types of features installed. The outdoor spaces of your home are perfectly usable during the spring and summer months. But when the colder weather sets in, it can be uncomfortable to use these yard spaces. One of the best ways to overcome this problem is to get a custom-designed fire pit installed in or near your outdoor kitchen, for a more cozy feel. We know that most homeowners dream about building and having their very own paradise in their own backyards. That is why we at SCCR Landscapes custom design and build outdoor fireplaces and fire pits throughout the greater Atlanta, Georgia region.
Expert Fire Features Design and Materials
We are the experts who leave no stone unturned in designing and installing modern fireplaces and fire pits using stone, concrete, brick and natural stone. We consider your design preferences to let you have a highly personalized fire feature in your backyard. We use quality materials and follow safety standards when working on our client's fire features. This is the reason why we are the top fire feature installers in Canton and surrounding areas. SCCR Landscapes uses only the best quality materials available on the market today. To ensure that your fireplace and fire pit will perform well and last a lifetime, it is very important to use the right type of material. Our professional contractors and designers will assist you and provide you with all the relevant information for you to make the right choice.
Fireplaces and Fire Pits Custom Projects
When we are designing your outdoor (or even indoor) fire pit, we take a number of different factors into consideration such as: the placement of the fire features, the shape, sky, and size of the structure, the design of the area around the fire pit/fireplace, installing a grill on the fire pit if required and whether you want a modular or custom designed feature.
A custom fireplace or fire pit brings ambiance and beauty to your backyard. These features add comfort and warmth to your outdoor experience regardless of the season. We have the ability, skill as well as experience to build these structures in order to match your landscape. We work, methodically, ensuring that the overall aesthetic and styling of your outdoor living spaces is cohesive and seamless. We are only one click away if you need more information on our professionally installed fireplaces and fire pits.
If you are looking for a landscape company that can handle fireplace/fire pit design & build and related services, feel free to call SCCR Landscapes at 770-354-3486 or contact us today.