Retaining Walls Buford, GA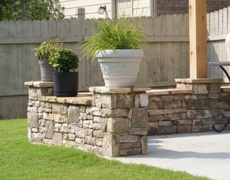 Retaining walls are relatively rigid walls used for supporting soil laterally so that it can be retained at different levels on the two sides. Retaining walls are structures designed to restrain soil to a slope that it would not naturally keep to (typically a steep, near-vertical or vertical slope). Retaining walls are excellent additions to a landscaped property because of the aesthetic appeal that they can provide. These types of walls can dramatically improve safety in the area by providing soil erosion control.
Our company has been in the hardscaping business for over 20 years, already making us experts in every facet of hardscape installation. We can design and build reliable and attractive retaining walls on any type of property - residential or commercial. Our competency in this area of property improvement is evident in the large number of projects that we have completed in and around Buford GA.
Block Retaining Walls
There are several types of retaining walls, but the most common and popular is a block wall. This popularity is due to a variety of factors, from structural integrity to customizability. Concrete block is relatively inexpensive to install and quite a strong solution for retaining walls. It also allows for easy and simple drainage and water mitigation. Moreover, if you are looking for a little more variety, you can find retaining wall blocks in a variety of colors, from more earthy sage to a blend of berry colors.
Stone Retaining Walls
Whether you need a natural stone wall, stack stone wall, boulder wall or mortared stone retaining wall, SCCR Landscapes takes the time to design the project and install the hardscape features, making for a stunning outdoor living space. These types of walls are the perfect choice for most residential areas house owners. With their superior engineering and flexibility, they outperform traditional cast-in-place, timber, boulder and crib walls.
Wood Retaining Walls
In the right setting, a wood retaining wall blends into a landscape more naturally than any other material. When stained to match a log or cedar clad home, it carries the house materials into the landscape for a more unified appearance. A properly drained wood retaining wall can last for many years when installed properly, but it requires sealing or staining every couple of years so it doesn't fade or rot. Wood is an accessible material; retaining walls offer a fairly simple installation and they're very affordable.
Best Hardscapes Contractor in Buford, GA
Our installation team is composed of certified installers and experienced hardscapers. Our crews will strictly follow the design plan to ensure quality workmanship. They use proven installation techniques and methods so they can finish the project in a fast and efficient manner. All our retaining walls are made from the finest materials and produced in state-of-the-art facilities. Contact us today and we will give you more details on our hardscape installations and design ideas.