About Us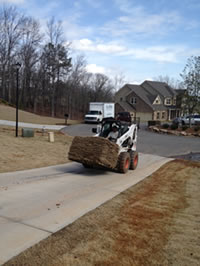 SCCR Landscapes Group of Cumming, Georgia is a company with over 20 years of experience in creating aesthetically pleasing outdoor living spaces. If you desire more outdoor living space or your yard is not useable, we at SCCR offer inventive and original solutions to your project. We work hard to create the environment that best meets your needs.
Whether its grading & excavating your property for erosion control or leveling your land for sod installation, we work hand in hand with our customers to make sure all projects are completed to your full satisfaction. We also specialize in designing and installing the ultimate outdoor spaces from pavers, retaining walls, decks & pergolas, outdoor kitchens, to fireplaces & fire pits.
Aside from providing top notch landscape design services, we offer flexible lawn maintenance packages, from full services to no contract accounts, weekly or bi weekly. Our expert team of landscaping professionals have decades of combined experience designing and maintaining landscapes and lawns, that will ensure your outdoor spaces will be the envy of your neighborhood.
Our high grade mulch can be delivered in large amounts up to 75 yards or as little as 15 yards. We will also install your mulch, just leave the work to us and take the day off. From yard clean ups to sod and plant insulation we are the right team for your next landscaping project. Proudly serving Cumming, Buford, Alpharetta and surrounding Cities of Georgia.