Outdoor Kitchens John's Creek, GA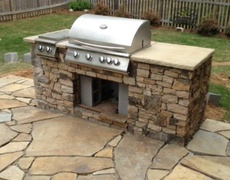 Outdoor kitchens are now becoming popular additions to outdoor areas because of their offered benefits. They can serve as focal areas and make the outdoors more attractive. These features can make weekly cookouts more fun and exciting since food preparation will be easier. Homeowners will also have a better cooking experience if there is a fully furnished kitchen installed outdoors.
However, you can only experience these benefits if the kitchen is installed by professionals. It must be carefully designed and installed in the perfect location. In addition, the kitchen features and other included amenities should also satisfy your needs and preferences. And here at SCCR Landscapes, we can help you experience these benefits. We have the experience and skilled crews who have been creating outstanding outdoor kitchens for John's Creek, Alpharetta, and Cumming clients.
Custom Outdoor Kitchens
Most of our outdoor improvement projects in John's Creek and nearby areas include outdoor kitchen installation. The kinds of outdoor kitchens that we have installed for our clients include typical kitchen setups with BBQ's. However, we also have projects that require us to build fully furnished kitchens complete with all the amenities that you can find in indoor ones. Regardless of the complexity of the kitchen project that we are working on, we are always able to satisfy the discriminating tastes of our clients.
Another reason why clients love our work is the way we build their outdoor kitchens. The kitchens that we have built for them are custom built and uniquely designed. We collaborate with our clients during the design phase to ensure that all their needs and preferences are included in the final kitchen design. Our design crews will include the specific amenities they need and other accessories that will improve the functionality of their kitchens.
The Best Features for Your Outdoor Kitchen
At SCCR Landscapes, we always aim for the complete satisfaction of our clients. We do this by listening to their needs and specific concerns. In addition, we only install the features that will improve the functionality and the aesthetic appeal of their outdoor kitchens.
Here are some of the kitchen features that we usually recommend to our clients in John's Creek, GA:
Grills. BBQ grills are staples in outdoor kitchen setups. We can install for you charcoal and electric grills, depending on your preferences. We only recommend proven brands that can last for years.
Storage cabinets. We can build customized cabinets for your cutlery, utensils and other kitchen paraphernalia.
Refrigerators and freezers. With these appliances, you don't have to go to and fro the indoor kitchen just to get your needed ingredients and other food items. You can have them right in your outdoor kitchen with the help of these appliances.
Ovens. These features should always be included in outdoor kitchens. Ovens are not only good for your homemade pizzas but also for other sumptuous meals.
Dining sets. Dining al fresco will not be possible if you don't have a dining set in the kitchen area. We can custom build one or you can purchase from your preferred supplier.
We can also add kitchen lighting, entertainment system, a mini bar, and sitting areas. If your needed amenities are not on this list, just let us know. We will include them in the design plan and install them using the finest materials that we can find.

Contact us now at 770-354-3486 so we can start building your dream outdoor kitchen.