Concrete Decks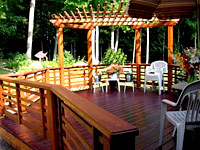 Do you want to improve the look and function of your pool? At SCCR Landscapes, we are ready to help you realize your desire to make your pool become more functional, safer, and more aesthetically pleasing. We have been building gorgeous pool decks for property owners across the state. And unlike other contractors that charge high rates for such service, we do it at affordable costs. We use only the finest materials when installing concrete decks, so you are guaranteed of excellent build quality and an appealing outdoor amenity.
As a landscaping company with more than 15 years of experience, we take pride in our ability to create unforgettable landscape features. The concrete decks we install, for example, are made from the finest raw materials and built following industry standards. The decks are meant to last for decades, which is why they're carefully designed and painstakingly installed by our artisans. In short, our clients from Cumming, Dawsonville, Alpharetta, Johns Creek, Buford and other cities in Georgia can expect a deck that is truly a source of pride and enjoyment.
Pool Decks
SCCR Landscapes is the choice of many Georgia homeowners because of our company's ability to create unique and stunning pool decks. We ensure the excellent quality of each deck by employing decorative methods such as stamping and acid staining. These decorative methods can mimic the look of pavers, bricks, wood, natural stones, and other types of flooring materials. More importantly, we strictly follow proven installation methods and use appropriate heavy-duty equipment for large installation projects. The pool decks that we create are truly marvelous structures that clients, their family, and guests absolutely love and enjoy.
Pool Coping
When installing concrete decks for our clients, we see to it that the pool coping is properly installed and repaired, if needed. Pool coping not only serves decorative purpose but also helps prevent water from damaging the pool wall and avoid injuries to pool occupants. With these delicate functions, the coping should be installed accurately and kept in good condition at all times. At SCCR Landscapes, our crews work closely with clients to determine the design of the coping to be installed. Afterwards, the coping is carefully installed to complete the pool itself just as how our clients wanted. We can use different types of coping materials for your concrete deck, such as concrete and natural stones. Some of the coping profiles that we can adopt include bullnose, tumbled edge, square edge, and drop down face. When we're done, you can expect a truly magnificent pool deck that you can be proud of.
Concrete Deck Contractors in Georgia
Concrete decks do not cost cheaply, which is why property owners should only entrust their installation to competent contractors. At SCCR Landscapes, we can guarantee you that the pool deck we create will be unique, durable, and functional. Moreover, our service rates are within the prevailing industry standards so you won't have to break your bank just to hire us. Please call us now at 770-354-3486 to learn more about our terms and rate for concrete deck installation.