Outdoor Fireplaces and Fire Pits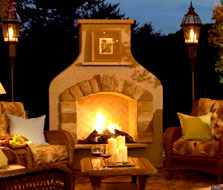 The addition of a fireplace or fire pit to your outdoor living areas is a great investment for your social life and for the value of your home. Why? Because having such an area outside allows you to spend some quality bonding time with friends and family especially in the cooler months of the year. Gone are the days when you had to stay inside all winter long; now you can have some really lovely warm evenings sitting by your fireplace and fire pit.
Over the years, outdoor fireplaces and fire pits have become a popular feature in many homes throughout the US. This has come about as a lot of home designs have included outdoor living areas and outdoor kitchens as a standard. People consider them appealing and adding so much function to otherwise unused landscapes.
The inclusion of outdoor fireplaces and fire pits has then seen homeowners put more focus on the rest of their landscape setting. It is not uncommon to see the installation of water features, outdoor kitchens, patios, decks and an array of beautiful plants and shrubs. The result is that people are putting more time and money into their landscaping and the end products are amazing looking outdoor spaces!
Professional Fireplace and Fire Pit Contractors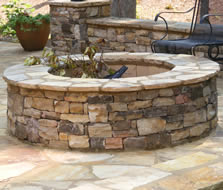 We believe that most homeowners dream about building and having their very own paradise in their own backyards. That is why we at SCCR Landscapes custom design and build outdoor fireplaces and fire pits throughout the greater Atlanta, Georgia region. We realize that each client has their own taste and style and want to give all of our clients what they truly desire.
Whether you are planning to construct new fireplaces and fire pits or want to renovate your existing ones, SCCR Landscapes is the company for you. Our many years of experience building fireplaces and fire pits make us confident that every project we install will satisfy our customers.
Outdoor Fireplace and Fire Pit Materials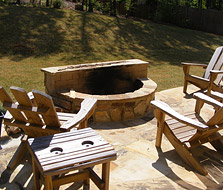 SCCR Landscapes uses only the best quality fireplace and fire pit materials available on the market today. We want to ensure that you have the best possibly functions for heating or even for cooking outdoors. There is little difference between an indoor fireplace and an outdoor fireplace since the basic construction is very similar. Chimneys, not dampers are normally used when building outdoor fireplaces. Traditionally, fireplace designs were made using clay materials, but today the contemporary designs are mostly cast aluminum.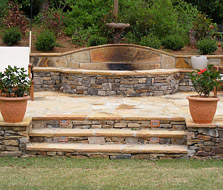 To ensure that your fireplace and fire pit will perform well and last a lifetime, it is very important to use the right type of material. Our professional contractors and designers will assist you and provide you with all the relevant information for you to make the right choice. Good ventilation and safety should be the first consideration and then the aesthetic appeal should follow. SCCR Landscapes see to it that both safety and aesthetics are taken into account when building fireplaces and fire pits.
Complete Your Outdoor Living Space with Fireplaces and Fire Pits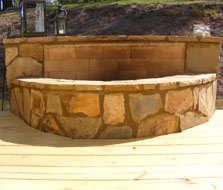 As for additional advantages, outdoor fire places and fire pits will provide an exciting area for having parties, cookouts, BBQ's, get-togethers or just spending some relaxing time with friends and family. Make your outdoors living space more exciting, more functional and a place you can benefit from throughout all of the seasons.