Concrete Work Projects Dawsonville, GA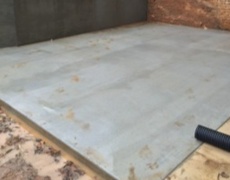 If you need a professional contractor for your next outdoor improvement project, call us at SCCR Landscapes today and we'll help you achieve your desired outdoor features without draining your pockets. We will transform your ideas into functional and stunning outdoor structures and amenities. With our capabilities, we can handle a wide range of concrete work projects, from concrete foundations, driveways or patios, to drainage systems, stone work and masonry. We are the first choice of most Dawsonville GA residents when it comes to creating aesthetically pleasing outdoor living spaces. At SCCR Landscapes, you are guaranteed of quality workmanship and exquisitely designed concrete features and amenities. We can fulfill this promise because of our complete resources and extensive experience of more than 20 years in the industry.
Premium Quality Concrete Pavers
SCCR Landscapes uses top-quality construction materials to ensure the structural integrity and aesthetic appeal of the concrete structures we build. We recommend concrete pavers, as these are among the most sought-after paving solutions by contractors, landscape designers and property owners. This is primarily due to the wide range of benefits that such paving materials provide. Concrete pavers are an extremely sturdy material that can withstand extreme weather changes without cracking. They are highly load-tolerant and proven to withstand constant exposure to heavy loads. It is also very easy to repair and replace damaged pavers, hence saving the property owner huge amounts. Meanwhile, concrete pavers are also well-liked for their easy installation and maintenance.
Contact us today for more details on this paving material. We can help you create attractive outdoor features and amenities by recommending premium pavers from leading suppliers.
Cost-effective Concrete Driveways and Walkways
Concrete pavers are an excellent material for driveways, as they allow for easy installation and projects can be completed quickly and within the working budget. Concrete pavers are available in various designs, colors, patterns, and sizes so it's easy to achieve a custom look. One great option if you have a limited budget is to go for poured concrete to create your desired driveway. Our poured concrete driveways are not dull-looking since we use decorative methods such as stamping and staining. Let us show you that we are the perfect choice for you, because as an expert contractor, we have successfully installed all kinds of concrete work projects throughout Dawsonville GA.
If you are planning to add concrete walkways on your landscape or outdoor area, you can contact us today. We will send our team of experienced people to your location to perform careful assessment of the area. We do this to determine the kind of walkway that fits best and the cost of the entire project. This will also help our designers come up with highly customized concrete walkway plans. Walkway installation may seem a very simple job but it actually requires skilled installers with deep knowledge of masonry techniques. We are the right choice for you as we always strictly follow the design plan and carefully prepare the site where the walkways will be built. We apply proven installation methods and use topnotch materials to achieve the kind of walkway that you desire.
We are only one click away if you need more information on our professionally installed concrete driveways and walkways.
Concrete Patios in Dawsonville, GA
Because of its durability and design versatility, concrete is an excellent paving choice for patios. A concrete patio has numerous benefits, as it is highly durable, easy to maintain and offers a wide range of choices when it comes to design. When creating a patio for a client, use only top notch materials, to guarantee its functionality, longevity, and aesthetics. Also, the patios are installed only by our professionally trained and skilled crews and they will adhere to industry-approved installation methods and follow clients' design requests. A really good option for building a stunning patio is poured concrete. Our installers can apply different finishes and create custom designs to achieve our client's design preferences. We also use decorative methods such as stamping to achieve the look of stone and other pricey flooring materials. If you want more information on the concrete patios that we design and build, please feel free to contact us.
If you are from Dawsonville GA, we hope you will cosider hiring SCCR Landscapes for all your concrete installation projects. By hiring a well-experienced concrete contractor, your project will be completed on time and according to specifications and industry standards. Dial 770-354-3486 now or contact us.