Concrete Retaining Walls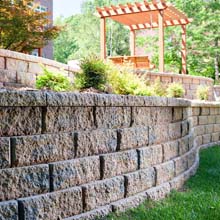 The vital functions of retaining walls in your property should not be neglected. They make your property safer and the landscape more appealing and more functional. The most important function of a retaining wall is to hold back soil, which may erode anytime and cause damages to landscape elements. This feature may also be used for aesthetic purposes, particularly in enhancing the look and appeal of the landscaped area. Most of these walls are installed in garden areas and outdoor living spaces. If you don't have this type of wall in your property or landscape, please call us. SCCR Landscapes has the capability to design and install all kinds of retaining walls. We can build low-rise concrete retaining walls as well as taller walls for soil erosion control. Just let us know your needs and requirements, so we can design the perfect walls for your landscape or property.
At SCCR Landscapes, we have already built countless concrete retaining walls for residential and commercial properties across the state. Our lengthy experience in this field helped us master the different installation methods and techniques. This means, we have the knowledge and expertise to build sturdy walls that can withstand the test of time. If you're from Cumming, Dawsonville, Alpharetta, Johns Creek, Buford, or nearby location, please call us. We will build your desired retaining wall at a cost that won't hurt your pockets. Dial (678) 208-0940 now.
Poured Concrete Walls
A well-designed retaining wall must have the capability to resist extreme lateral soil pressure. At SCCR Landscapes, we typically recommend poured concrete walls for areas with steep slopes. This type of wall will not collapse even if it is tasked to hold large amount of soil. We can also build taller walls without compromising their structural integrity. The toughness of poured concrete retaining walls is due to its solid construction. It uses rebar and other form of reinforcement, making it a very sturdy outdoor structure.
However, there are some property owners who do not favor this type of retaining wall because they fear that the wall will look dull and boring. At SCCR Landscapes, we will change your view about concrete retaining walls. Our poured concrete walls are eye-catching and built according to your design preferences. Moreover, we can adopt certain theme or style to suit your design taste. The walls will be finished using concrete decorative methods, so you can surely have attractive outdoor structures.
Block Walls
You can also use other materials to build your retaining walls. Another popular option that we can recommend for your retaining wall project is to use block walls. These blocks have easy-to-install features and proven durable. You can request for a specific finish, texture, or color, regardless of the retaining wall's height. Concrete retaining block walls will still perform their vital functions even if they were built above 10 ft. high. You just need to hire competent retaining wall builders like us at SCCR Landscapes. Our licensed masons will ensure the accurate installation of each wall block to achieve a reliable retaining wall. You are also guaranteed of stunning concrete retaining walls after we complete the installation job.  
If you need an expert retaining wall builder, call SCCR Landscapes at (678) 208-0940.