Flagstone Patios and Walkways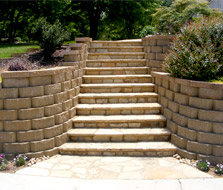 If you have just purchased a home or are thinking of renovating your existing home and would like to add something; new then maybe a flagstone patio or walkway is an option for you? SCCR Landscapes is one of the leading landscaping and hardscaping companies serving the greater Atlanta, Georgia region for many years. We have custom designed and installed beautiful flagstone patios and walkways for our clients.
Your patio and walkways are the welcome mats to your home. Regardless of their shape, composition or size, they present simple and stylish opportunities to enhance your exterior. We at SCCR handpick our Tennessee Flagstone
Flagstones for Patios and Walkways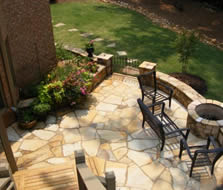 A patio refers to a flat area outside your home that is commonly attached to the building. A patio is an extension of living space taken into the outdoors. Homeowners are adding some really great outdoor living areas to their homes nowadays with the inclusion of outdoor kitchens and fireplaces also. Flagstone is a great material to use for the flooring of your patio. Flagstone is aesthetically enhancing because it is a natural stone and gives that 'old world' feel to your outdoors. The rustic appearance of flagstone makes them not only visually appealing but it is also an extremely durable material that will stand the test of time.
Flagstone is available in a wide range of colors, shapes and sizes which makes creating unique patio and walkway designs very easy to do. Flagstone will suit a range of tastes for it can be used to create a classic or a contemporary look. It really is such a versatile material and hence ideal for both patios and walkways. 
Installation of Flagstone Patios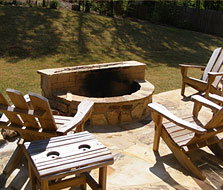 It is always best to seek the help of a professional paver installation company like SCCR Landscapes; when installing such a beautiful material like flagstone. Because it is a natural stone is a little pricier than other paving materials on the market. Therefore, you want to make sure the job is done right first time. The only way to ensure this is by leaving it to an experienced paving contractor. Our team has all the experience, knowledge and quality craftsmanship to install a stunning flagstone patio or walkway for your residential or commercial site.
You will also need to cut the flagstone pavers at some point throughout the installation. You don't want to ruin your flagstone pavers. A company like SCCR Landscapes has all the right equipment ready to take on any installation requirements such as saws chisels etc. our installers can also help you choose from some really eye-catching patterns that we will lay the flagstone in such as herringbone, circular, running bond and many more.
The Best Flagstone Pavers and Materials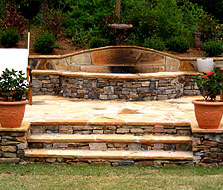 We have access to the best flagstone products and materials. Our philosophy is that by using the best quality flagstone you will end up with a patio or walkway that is not only beautiful to look at but one that will be durable and last a lifetime.
Always feel free to visit our office in Cumming, Georgia or call us first if you want to set an appointment with us. Our staff is always ready to provide you with all the information you may require and answer all of your queries. So, contact us today and we will get you one step closer to installing your very own elegant flagstone patio or walkway today!