Stamped Concrete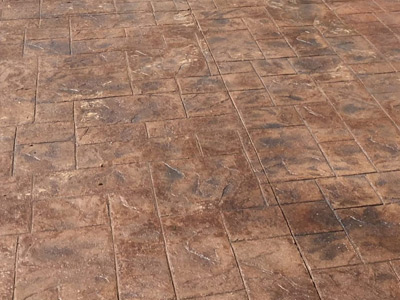 SCCR Landscapes Inc. installs stamped concrete produced with the finest cement mixtures. Our goal is to provide you with the best possible strength for your applications by using the finest materials and techniques available.

To maintain our excellent reputation, we only produce stamped concrete that meets or exceeds the strength testing criteria set by our competition. Our company serves residential and commercial clients in and around Cumming, GA.


Stamped Concrete Installation Process

We meticulously install your new stamped concrete surfaces using top-quality products and methods to ensure it survives the test of time. These are some of the steps in our multi-step process:
Preparing and grading your outdoor area.
We will mix cement mixture with high-quality rebars and forms.
The top layer of concrete or cement finishes may be finished by hand.
We can make your concrete look like natural stone pavers by staining it with color.
We use a color release to prevent the rubber stamp mold from adhering to the surface.
Once the concrete has been poured, we use a stamp to create the design pattern.
Direct sunshine impacts the concrete setting more than shade, which causes it to harden more quickly. Our competent concrete specialists and stampers know just when to apply the stamping for the most remarkable effects. After stamping the concrete, the area must be kept undisturbed for at least 24 hours before walking on it or setting anything on it.

The released colors are swept away on the second day, and the surface pressure is washed to remove any remaining residue. After a month of curing, we recommend applying a penetrating sealer. However, in the summer, when the temperature is higher, we may use the sealer for a stamped concrete project within a few weeks.


Range of Stamped Concrete Services

We offer a variety of stamped concrete solutions for:
Patios
Driveways
Sidewalks
Walkways and pathways
Pool Decks
Fire feature areas
Stamped concrete is exceptionally long-lasting. However, it may need some minor repairs and upkeep over time. We are a locally owned and operated business specializing in stamped concrete repairs.


Cost-Effective Stamped Concrete Services
Stamped concrete is an appropriate hardscape material for landscapes because it has no gaps or seams where weeds or molds might develop. The newest UV technology in our stamped concrete helps it resist fading. Your outdoor areas will be low-maintenance and easy to clean since we employ premium-quality penetrating sealers.

If you are looking for high-quality stamped concrete surfaces for your property's outdoor spaces, please call SCCR Landscapes Inc. at 770-354-3486. You can also contact us using this online form, and one of our experts will call you back soon to discuss your requirements for different types of stamped concrete surfaces.