Firepits in Flowery Branch GA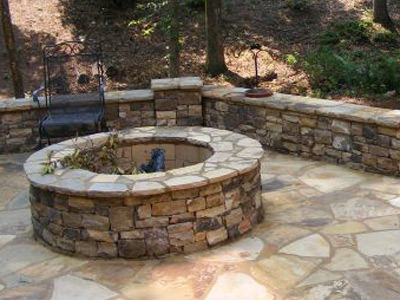 From small lawns to extensive landscapes, a fire pit installation can add value, comfort, and fun to your favorite spaces. They are beautiful places to entertain, cook, or unwind. Look no further if you're looking for custom-designed firepits in Flowery Branch, GA. The SCCR Landscapes, Inc. team has been providing the best fire pit installations to clients throughout the region for many years.


Creating The Right Fire Pit Design
Designing a fire pit for your outdoor living space doesn't have to be stressful. Ask the experts. We work with our clients to plan the ideal fire pit design for your space. Our designers will walk you through the steps of choosing your custom fire pit design. We offer a wide variety of options including variations in styling and more.


Aspects We Consider In Fire Pit Projects
Fire pit designing involves considering various aspects such as:


Materials - While you should always use safe products around a fire, many aesthetic alternatives exist for fire pit installations. You have several material options, including the Sierra, Limestone, Flagstone, Almond Grove, Sandstone, and many others. To ensure the durability of your fire features, we only utilize high-quality materials that have stood the test of time.


Size - How much room do you have for your fire pit? When hosting guests around the fire, how many do you plan to have over? Consider these factors while designing your fire pit. Even compact fire pit layouts are ideal for intimate get-togethers with family, although they may be better for smaller groups.


Form - Fire pits may be made in various shapes to suit individual needs. The traditional round shape and the more modern streamlined rectangular shape are available. Many people choose fire pits that are square in design and have a border around them so you can decide what you prefer.


Fuel - The fuel you use in your fire pit is a matter of preference. You can use a propane or gas fire pit at the turn of a switch, as the flames appear instantly. A wood fire needs time to begin going. Gas-powered pits are more hygienic than wood-fueled ones but need a canister or line to operate. Woodfire provides tasty meals, but gas stoves don't transfer any of that smokiness to your clothing. Our team of professionals is here to assist you in making the right decision.


High-Quality Fire Pit Installations
Our team of masons has been working together for decades. Professional designers on our staff have been adapting standard fire pit blueprints to meet the needs of individual customers. Your house is in excellent hands with us since we have the necessary licensing insurance cover and handle every project to industry standards.

We are constantly studying industry developments and trends to improve our services further. We are here to help you realize your ideal backyard fire pit design. Whether you want to install a fire pit in a new landscape or an existing one, we are here to help with the best solutions. We focus on customization and personalization, ensuring that you get the kind of fire pit that will align with your needs and fit your budget.

For more information about our firepits in Flowery Branch, GA, please call SCCR Landscapes, Inc. at 770-354-3486 or write to us through this Online Form, and we will contact you soon to discuss your requirements.