Mulch Delivery
Every landscaping project big and small involves a wide variety of materials such as hardscaping and masonry products, pebbles, rocks, soil, and compost as well as aggregates and mulches. We know that mulch deliveries are generally required in large quantities and you need to be assured that the company that supplies these has the ability to do so.
We at SCCR Landscapes Inc. are a reliable local mulch delivery company that caters to clients in and around Cumming, Canton, Holly Springs, and Woodstock. We also handle mulch deliveries for customers across Milton, Alpharetta, Gainesville, and Sugar Hill as well as Dawsonville. If you need our specialized wood chip mulches for your commercial or residential landscaping projects in John's Creek, Buford or Oakwood, we are the company to call.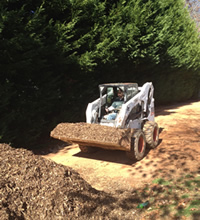 No mulch job is too big for us
The Benefits of Wood Mulches
There are a number of benefits to using mulches such as:
Protect the ground from extreme temperatures
Help it retain moisture
Help prevent weed growth
Maintain the health of the flower beds and plants underneath
Mulches are also available in a variety of colors and shades. They add a pop of color to your landscape and improve the appearance of the outdoor spaces on your property. 
We understand that clients are discerning about the types of mulches they use on their properties and it's why we only deliver and install high-quality Cowart mulch products. These Kid-Safe™ mulches are eco-friendly and made from recycled wood.
When you opt for our mulches you don't have to worry about your landscaping coming to any harm and all the areas will look stunning as well. While some clients only require delivery of wooden mulches, others need us to handle the installation as well. Our company provides excellent residential and commercial mulch installation services.
Types of Recycled Wood Mulches
Red hardwood-$27.50 c.yd
Dark brown hardwood-$27.50 c.yd
Black hardwood-$27.50 c.yd
Hardwood blend-$23.00 c.yd
Cypress-$32.00 c.yd
Pine nuggets-$32.00 c.yd
Fill dirt-$26.50 per ton
Topsoil-$28.00 per ton
Note: we install 10-yard min on mulch delivery
Cost-Effective Mulches
We can provide all the information you need about the different landscape mulch types and what their pros and cons are. This will help you make a better-informed decision about the types of products you need to improve the appearance and health of your landscape.
For any more information on our services, feel free to call SCCR Landscapes Inc. at 770-354-3486. We will provide you with all the information you need as well as wooden mulch cost for the quantity you need. You can also send us your request via the Contact Us form on our site and we will respond quickly.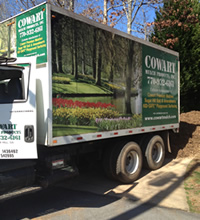 http://www.cowartmulch.com/
We only use the finest quality mulch cowart premium mulches and amendments.