Grading and Excavation Services Gainesville, GA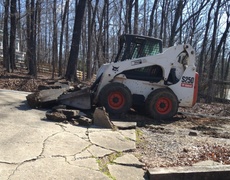 Every property development or construction project must be handled by competent people who are not only experienced but also equipped with the right tools and equipment. We are the right company to hire for grading and excavation services because of our highly skilled team, modern equipment, and lengthy experience in the industry. Moreover, SCCR Landscapes Inc. has handled a large number of projects which include utility services for commercial and residential customers in and around Gainesville, GA. We work closely with our clients and make sure that we have a good understanding of what your requirements are before delivering the needed services. The entire land grading and excavation work is completed in a very meticulous, contained and confined manner and this ensures the landscaping gets the right structure.
Complete Excavation Services
At SCCR Landscapes we have a robust inventory of specialized tools and equipment that is properly maintained. We also have skilled, well-trained, and expert crews that have years of experience with handling excavation jobs of all shapes and sizes. Excavation is an essential service which is part of the landscape installation process. The land will have to be dug at various points to accommodate the irrigation, drainage systems and even the large trees or planter bed our clients wish to install. Also, keep in mind that concrete driveways, pathways, and pool & pond features also need excavation services before they are actually installed.
The success of any construction project largely depends on the skills and capabilities of the contractor. If you are the property owner, you have to choose only licensed, insured, and bonded contractors in order to avoid problems during and after the completion of the project. By hiring a well-experienced excavation contractor like us, you will be assured of a worry-free project because of our highly skilled crews, excellent workmanship and complete resources.
Grading Services in Gainesville, GA
Grading is an essential aspect of any site prep job, and it is crucial that the land is levelled well before any construction work starts. Therefore, the main purpose of grading is to make the soil a perfect base for concrete structures such as homes and buildings. Grading is required for projects involving sidewalks, driveways, parking lots, landscape features, such as decks and pergolas , as well as roadways and more. Correct land grading helps to ensure that all the excess drainage and irrigation water gets directed towards the main city drains, which prevents flooding on your property and helps maintain the integrity of the structure on it. We recommend and implement the grading process in almost every project we take up. Our team of highly skilled landscapers will come and survey the property and understand what the layout of the land is. They know the right methods to use for a perfectly done grading job and the techniques to apply to achieve outstanding results.
Don't let inexperienced contractors handle your project's grading and excavation requirements. Hire only a well-experienced service provider like us at SCCR Landscapes Inc. We are focused on providing high-grade services at an extremely competitive cost. Feel free to contact us or call us at 770-354-3486 and discuss your requirements with our experts.