Decks and Pergolas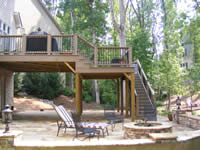 Patio and decks are extensions of the home. SCCR Landscapes builds decks and pergolas that will enhance your outdoor living areas. We have experience in building decks, pergolas and arbors for our clients throughout the Atlanta, Georgia region, for many years and with great success!
At SCCR Landscapes we will custom design and install any deck and pergola for your residential or commercial property. The addition of a deck to your outdoor area will allow you to have a place to entertain your family and friends or to just sit and relax at the end of a hard day. Once you have a deck or pergola you can also add a BBQ, an outdoor kitchen and some outdoor furniture. You will have a place to cook some great meals outside, while enjoying the fresh air. A deck will see you spending a lot more time outdoors, relaxing in the sun or entertaining your friends and family. The installation of a deck or pergola will increase the amount of the living spaces you currently have in the outdoors area. So not only can it increase the aesthetic of your property and your social activity but it can also increase the value of your home!
A Deck to Suit Any Taste or Style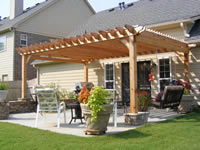 We can build you a variety of decks in many different types of materials and styles; with so many options available, our designs are limited by the imagination only. Decks are traditionally built using wood and timber products. Our team of professional deck contractors will come out to your property and propose a design that is perfect for your space and for your budget. No job is too small or too large for the team at SCCR Landscapes. Let us create the outdoor deck of your dreams and transform your outdoors into an entertaining delight!
A Pergola for Your Outdoor Area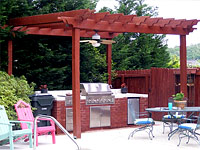 Pergolas are also sometimes referred to as arbors or trellises. Traditionally they are built without a fully enclosed roof. This allows you to still enjoy some sun at different times of the day. Therefore, they provide partial shade because the roofs are not enclosed with screens, like a gazebo. They do look very appealing and will enhance the aesthetics to your deck and your property on a whole. Building a pergola along with your new deck really adds a focal point makes a great structural feature. If your landscapes don't have many existing features and you want to add something to give your yard a lift, a pergola is a strong architectural structure that will make quite a statement.
Add Some Shade to Your Backyard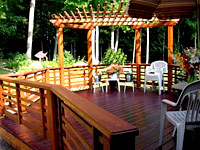 There are a variety of methods that will allow you to soften the look of your deck and pergola and provide some shade for those hot summer days. One option is to plant some type of easy-to-grow vine; this will make a stark looking pergola blend in more with the surrounding nature. Another common practice nowadays is to place a canopy underneath the pergola. A canopy is on tracks so it allows you to control how much shade you wish to have, depending on how much sun and fresh air you want any time of the day. SCCR Landscapes will work with you to create the perfect deck and pergola for your landscape setting!