Outdoor Living Features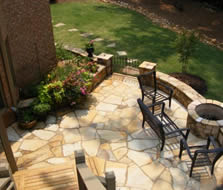 Not only is it important to ensure these features are designed well, but they need to be installed with attention to detail as well. If you are a residential or commercial property owner in Cumming, Dawsonville, Alpharetta, you can contact local outdoor living companies such as SCCR Landscaping Group. They also provide services to clients in and around Johns Creek and Buford, GA.
Custom Outdoor Spaces - Design and Installation
Regardless of whether you want outdoor spaces to relax, entertain or improve the value of your property, you need to hire the services of experts that have experience in this field. It is also important to find designers that are creative and unique in their approach so you get outdoor spaces that look stunning and are long-lasting too. This is where customization comes into the picture.
The company that handles the job should have the ability and skill to provide customized solutions based on your specific needs. The designers will visit your property, survey the available space and understand what types of features you want installed there.
The experts would have discussions with you to understand what your ideas are for this space. Based on these initial discussions they will provide material samples as well as the designs and plans, giving you a clear idea about how your yard would look once the project is complete.
Types of Outdoor Living Features
Experienced and expert landscaping companies can design and install outdoor living features such as:
Outdoor kitchens
Natural stone patios and walkways
Interlocking stone decks and poolscapes
Front entranceways
Woodworking/decking
Natural stone seating walls around
Garden structures: gazebos, pergolas, and pavilions
Spas and hot tubs
Outdoor lighting
Cost-Effective Outdoor Living Solutions
If you are getting a new landscape installed, the designers will ensure that all the spaces are demarcated well and the features installed to perfection. In case of a landscape upgrade project, they will take extra care to make sure that every feature has the right styling and that it complements the appearance and theme of your landscape. They will also take care to design features that match the styling of your home structure.
The company will recommend the materials that are weather-resistant and able to perform well in outdoor spaces. This is an important aspect because ongoing maintenance can prove to be a drain on your finances if the features are made using poor quality materials.
Credible and well-established companies like SCCR Landscaping Group would be able to cater to your specific requirements. They will customize their services and make sure that the project is completed at a reasonable outdoor living cost. Don't hesitate to contact us today on (770) 354-3486.