Decks & Pergolas Features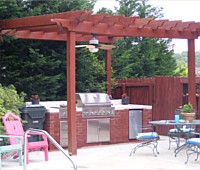 Outdoor structures add functionality, beauty, and value to your property. These features need proper planning and installation for them to be durable and long-lasting. While you can add many different structures to your landscape, decks and pergolas are popular choices. At SCCR Landscapes Inc., we offer a range of hardscaping solutions to residential and commercial clients.
Custom Decks & Pergolas Features
Over the past 18 years since our inception, we have designed and installed a significant number of outdoor features, including:
Paver Decks
Pavers are widely used in various outdoor spaces, including decks. You can choose from concrete, brick, or natural stone pavers. There is also a wide range of sizes, shapes, designs, styles, and colors that you can choose from. Paver installation is straightforward, and these long-lasting and easy-to-maintain units uplift your outdoor spaces' appearance.
If you are looking for resilient and appealing decking material, pavers are the natural choice. Professional paver installers will have detailed discussions to understand your specific requirements and provide the best product options. To reiterate, there are many advantages to opting for paver decks, such as:
Aesthetics
Strength
Low maintenance
Ease of installation
Non-slip surfaces ideal for outdoor areas
Cost-effective
Easy to repair
Wood Decks
Today there is a wide range of decking products available on the market. Despite this, most property owners continue to opt for wooden decks. Wood has a timeless appeal, and when you select the best wood species, you can be sure that the decking will last for many years, providing you excellent value for money. Skilled and experienced landscape designers will plan your deck perfectly, considering aspects such as:
Size
Layout
Connections to the indoor spaces
Whether you want any other features installed on the deck
Your budget
Other
You can choose from various wood species, including cedar, mahogany, Ipe, teakwood, and more. Our team will provide their input depending on the discussions they have with you and understanding your specific requirements and budget.
Pergolas
Sometimes people refer to pergolas as trellises or arbors. Typically, these features do not have a fully enclosed roof and are a grid of battens positioned above four columns. It means that you can enjoy the outdoor weather without direct exposure to the sun's rays during summertime.
A pergola is a functional and attractive structure that you can install in any area of your yard. For example, you can construct the pergola on a deck or patio or as a standalone structure in your landscape. Choose from wooden, aluminum, composite, or vinyl pergolas in the styling you want.
Pavilions
While it is great to have an outdoor structure in your yard area, you would want one that provides optimal functionality. Customized shade structures such as pavilions are an excellent option to make the best use of the available space. You can opt for a simple or elaborate structure depending on your requirements and decide which materials you want to use in it. For example, you can construct a wooden or metal pavilion and determine its size, shape, and overall styling.
For more information about our decks & pergolas features, feel free to call SCCR Landscapes, Inc, at (770) 354-3486. You can also use this Online Form to send us any queries or service requests you may have.