Outdoor Kitchen Ideas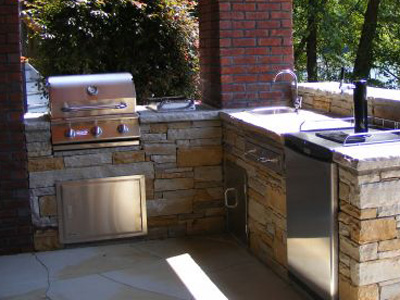 Creating outstanding outdoor living elements requires ability, competence, and a working understanding of various materials. Appropriate planning and style are critical components of this task. We are the professionals to contact if you want unique outdoor living structures.

SCCR has almost 20 years of expertise in this business and provides customers in and around Milton, GA, innovative outdoor living solutions. We specialize in designing and building outdoor living kitchens that are visually attractive and physically sound. Here are some exciting outdoor kitchen ideas.


Outdoor Kitchen Ideas

If you like hosting parties, entertaining friends, or just relaxing with family in comfort and privacy, building an outdoor kitchen is a viable approach to accomplish this goal. The kitchen can be an excellent addition to your yard, and you can organize all its features to ensure that it is a functional and useable area. Adorn the floor with pavers and install countertops and storage well. Decide which appliances to place there and leave room for a stove, BB, or grill, for example. If you wish to install a fireplace or a fire feature, choose the location and design a sitting area around it.


Outdoor Barbecue

BBQs are a great addition to an outdoor kitchen. Some property owners install it in another area of their yard too. Skilled hardscapers will advise you on the type of BBQ equipment to install, and they will design and install the adjacent countertops of your choice. They can also construct half-height block walls around these spaces to segregate them and create built-in seats. If desired, the experts also clad concrete BBQ walls with unique stone veneer, adding a special touch to your outdoor areas.


Outdoor Pizza Oven

An outdoor pizza oven enhances your outdoor areas' utility and helps create an entertainment zone for you and your family to relax and enjoy. While it may seem that installing a Pizza Oven is a relatively simple task, the reality is that it is also a highly specialized one. Skilled professionals will ensure that the pizza oven's design and styling complement the other features in that area. A concrete pizza oven can look unique with stone veneer cladding and complement other outdoor elements.


Outdoor Bar

Adding an outdoor bar to a deck or patio kitchen is an excellent way to complete the yard's appearance and function, and it's rather practical. Competent landscaping specialists can construct a bar to enhance your leisure and entertainment experience even further. Depending on the space available, you can install it near or in your outdoor kitchen. This feature can become your backyard's focal point while highlighting your outdoor kitchen's beauty and functionality.

Experienced hardscapes work closely with their clients to understand their requirements and ideas before coming up with designs and plans for the perfect outdoor kitchen space.

We can create the outdoor kitchen elements you want in styles ranging from modern to rustic. For additional information about our outdoor living services, feel free to call SCCR Landscapes at 770-354-3486 or send us an email through this Online Form.