Concrete Features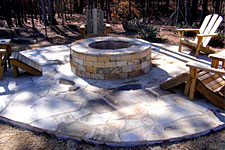 When you want functional and appealing landscapes, you need experts like SCCR Landscaping Group to handle your concrete installation job for you. They are one of the leading companies that offer decorative concrete solutions to clients in Cumming, and Alpharetta. They also handle projects for customers in Johns Creek and Buford, GA and have handled numerous concrete design and installation projects in Dawsonville. The different types of concrete features they offer include:
Stamped Concrete
Stamped concrete looks amazing in any landscape. The concrete contractors can install stamped concrete walkways, decks, patios, poolscapes, driveways and more, using this particular technique. Stamping can give the concrete the appearance of natural stone, slate, brick, and other types of paving. It is possible to emulate the beauty of all these natural materials yet get the resilience, durability, and cost-effectiveness of concrete. Once the surfaces have been stamped, they can be stained in various colors to lend them a unique look.
Stenciled Concrete
Untreated concrete surfaces can look very dull and boring. But this bare look can easily be changed by a technique called stenciling. The concrete contractor will show you various stencil designs that you can choose from, giving you with the flexibility to create the kind of look you want in the outdoor spaces of your home or commercial establishment. The curbing and edging can also be in stenciled in the design you like. Stenciled concrete surfaces are also slip resistant which makes them ideal for you use in areas like poolscapes.
Colored Concrete
As mentioned earlier, concrete has shed its image of being a dull and boring looking material. It is possible to create a unique and appealing look in your landscape with the use of concrete colors. Concrete coloring is an excellent option especially when you want to maintain the smooth appearance of the surface yet want outdoor areas that look interesting. The concrete contractors will help you choose the kinds of hues and colors that will complement the theme and the design of your landscape. Concrete surfaces can be colored be using various coatings and dyes.
Stained Concrete
The concrete surfaces in your outdoor spaces can also be colored using stains. It's possible to achieve very unique color variations using acid-based or chemical-based concrete stains. These special stains penetrate the surface of the concrete and create stunning effects via a chemical reaction. There are a number of water-based stains, which are a blend of acrylic polymers and pigments, which also lend a permanent color to the concrete. There are many standard colors and metallic tints to choose from.
Creating beautiful, functional and long-lasting landscapes is about choosing good quality concrete materials and hiring experienced professionals like the ones at SCCR Landscaping Group for the job. Not only will they provide custom services, but will also make sure that you get solutions which fit in perfectly with your budget.